ZEPX

Zephyr Xtra This product has been replaced by the Zephyr Express: All-in-one Command Station/Booster/Throttle (DCS52) and is no longer available. Click here to view the DCS52.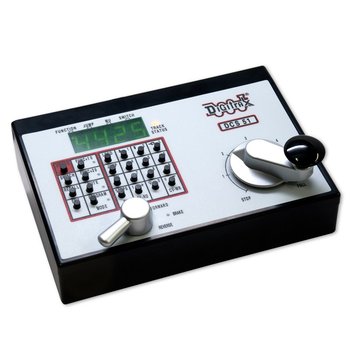 Zephyr Xtra gives you simple to use Digitrax Complete Train Control for a great price.
It offers simplified advanced train operation for any size layout.
Zephyr Xtra has many more exciting features than other comparably priced control systems.
Zephyr Xtra keeps it simple and still has features real model railroaders want.
Best of all, Zephyr Xtra is expandable!
You won't have to start over when you want to do more with your railroad.
Zephyr Xtra Set Includes:
DCS51 All-In-One Throttle/Command Station/Booster to run your layout

PS314 Power supply to provide power to run your DCS51

One LT1 LocoNet Cable & Decoder Test Kit

Zephyr Xtra Quickstart Guide

Zephyr Xtra Manual

Digitrax Decoder Manual
Zephyr Xtra Offers:
Cost effective entry level LocoNet Compatible system

Simple intuitive controls for running trains.

Large speed control knob and direction switch with brake.

Full numeric key pad

Large easy to read LED display

Easy 2 and 4 digit addressing.

Smooth speed control.

Run multiple trains at once without blocking!
Run up to 20 addresses at the same time on your system.

Run up to 20 throttles at the same time on your system.
Jump Ports for using DC power packs as additional throttles
Use one or two smooth DC power packs as throttles to control DCC equipped locomotives.

Simple, cost effective way to add more throttles to your Zephyr Xtra set.

Makes it easy to share the fun of DCC with layout visitors and young operators.

Functions on locos controlled by Jump throttles remain active.

Over 9000 Locomotive Addresses
Use Address 00 to run one or more locos without DCC decoders

Two Digit Addressing is easy to use. (Address 01-127)

Four Digit Addressing-use the number painted on your engines as its address.
3.0 Amps of Power to run multiple trains.
Booster outputs 13V DC for safe operation in N and HO scales.

Function Control
Control for 30 functions (F0Fwd, F0Rev and F1-F28)

Function 2 is a special non-latching key that can be used to sound the horn for as long as the key is held down.

Constant brightness lighting. Headlights can be directional or independently controlled (depending on decoder).

Stationary Decoders, Turnout Control & Turnout Position Reporting
Access to stationary decoder control for turnouts and other devices.

Control 999 stationary decoder addresses.

Consisting
Universal consisting, Digitrax preferred method. ALL locos can be consisted, even analog locos.

Advanced consisting, allows only advanced consist capable mobile decoders.

Basic consisting, program decoders to run on same address.

Decoder Programming
Built in read/write programmer that can read and write all CVs.

Supports Paged programming (Digitrax preferred method). Also supports direct & register mode programming.

Operations mode programming can be used to program decoders on the layout.

Blast Mode Programming for Sound

Expandability with Digitrax LocoNet
Use Zephyr Xtra as a starting point for your Digitrax LocoNet System, then add components.

Use Zephyr Xtra as an expansion set with Digitrax equipment you already have installed.

Add Radio or IR via LocoNet. Just plug in a UR90, UR91 or UR92 receiver and add IR and/or Radio throttles.
Note: Existing DCS50s/Zephyrs are not upgradable to the new DCS51s/Zephyr Xtras. The DCS51 is a completely new board design with additional keys and additional functionality.
Specifications
Warranty

No Worries Warranty (read more)

Digitrax gives a one year "No Worries" Warranty against manufacturing defects and accidental customer damage

on all Digitrax command stations, boosters, throttles, decoders, power supplies and layout control devices.

That's it! A simple, straightforward warranty with no tricky language!

---

Repairs are simple, too! Just fill out the form and return your items directly to Digitrax for repair. We'll get them fixed up and return them to you as quickly as possible. Please DO NOT return items for repair to the place of purchase.

Make Sure Your Item Needs To Be Repaired Before Sending It To Us! Many of the units we receive for repair do not need any repairs at all. Before you send any units for repair, please take a few minutes to review our Support Options.

1. Check the Tech Support Depot for help. Search for troubleshooting guides.

2. Click here to send Digitrax Tech Support a message.

Please give your name, e-mail address, phone number and when is the best time to contact you. Please give a complete description of the issue you are having.

Many problems are easily resolved by contacting Digitrax Tech Support without having to send in your unit.

Note: Some Digitrax products are no longer repairable due to unavailability of repair parts. Un-repairable items will be returned to you at no charge with no repairs made.

Please Note: Most of our products are not user serviceable. If a defect or accidental damage occurs, return the unit directly to Digitrax for service. Please do not open the Command Station/Boosters (except for making voltage adjustments or changing batteries per the manuals). Please do not remove the shrink wrap protective sleeves from the Digitrax decoders. Shrink may be peeled back to expose pads for adding function wires.

Accessory items that are not covered under the No Worries Warranty carry a 90 day warranty against defects in materials and workmanship. This includes speakers, wire, cables, battery covers, etc.

Intentional damage and customer modifications outside the scope of instructions provided with the product are not covered by this warranty.

Do NOT send a locomotive with your decoder. If a locomotive is sent to Digitrax, Digitrax will ship the entire package back, unrepaired.