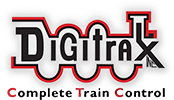 The Digitrax Complete Train ControlTM system brings fun and realism to model railroading. Using our LocoNet Network and the many devices that work on the network, we incorporate many technologies to give you a system that seamlessly handles all aspects of layout control and model train operation. With Digitrax you can run many trains at the same time just like on the real railroad. You can operate lights and sounds on the trains. You can set up detection and signaling so you'll know where the trains are at all times. Reversing loops can work automatically. Short circuit and power management gives you smooth operation with few interruptions. You can implement train location and identification on your layout. You can use a computer for layout control if you wish but it is not necessary. Set up and programming for all Complete Train Control devices on LocoNet is simple and intuitive.

With Digitrax LocoNet®, the Complete Train Control network, you can start out small with a starter set and build from there until your railroad empire is just what you have always dreamed of! Adding components is simple and it's easy to add new features and expand existing features by simply plugging equipment in to the network.
Digitrax is a full time professional company dedicated to bringing superior engineering, quality and affordability to model railroaders everywhere. The first time we ran a digital command control system we knew we couldn't live without one but, we couldn't afford it either. The Digitrax Complete Train Control system is our answer for model railroaders who want to enjoy the excitement of the latest train control technology without taking out a second mortgage! The system is affordable and flexible. You can get started for a small initial expenditure with our Zephyr Xtra, Super Empire Builder Xtra or Super Chief Xtra Starter Sets and then expand as your needs and interests grow. Your system can be as simple or as advanced as you wish, IT'S UP TO YOU!
We are committed to customer service. Our customers are the reason we are in business. If you have any questions or comments about our system please let us know so we can resolve any issues you have and so we can make better products for you in the future.