DT400R

Super Radio Throttle This product has been replaced by the Simplex Radio Equipped Super Throttle (DT402R) and is no longer available. Click here to view the DT402R.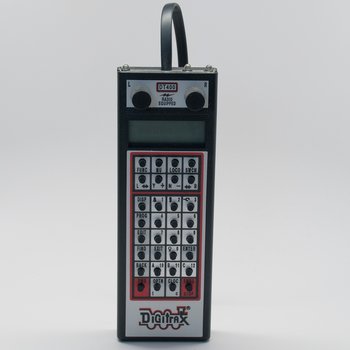 The DT400 super throttle gives you direct control of two locos at a time with all the powerful features and flexibility serious model railroaders demand.
The DT400 super throttle is designed to handle nearly every aspect of layout control.
You can run trains and consist, control up to 12 functions such as sound, program decoders, set up and operate routes, and much more.
Offers Simplex wireless radio control with a UR91 simplex receiver (sold separately)
Discontinued in 2009.
DT400R Features:
Simple to use with any Digitrax LocoNet System

User Friendly Multi-line backlit display with easy to read icons and messages

Dual throttle controls for running two trains at a time

Click encoders give extra fine speed control and direction control, too!

Full numeric keypad

Direct access to functions 0-12 with DCS50 or DCS100 command stations

Direct access to functions 0-8 with DB150 command station

Single key access to most common throttle tasks.

Infra-Ready

Find Key for use with transponder equipped locos & layouts

Built in flashlight for reading paperwork and loco/car numbers in darkened layout rooms

No more throttle display time-outs!
Specifications
Replaced by

DT402 Series Throttle
Product Support
Supporting Documentation
Tech Support Depot
Bundled
This product is also included as part of the following sets: