CFIIRE5A

Chief II 5 Amp Simplex Radio Equipped This product has been replaced by the Super Chief 5 Amp Simplex Radio Equipped (SCFRE5A) and is no longer available. Click here to view the SCFRE5A.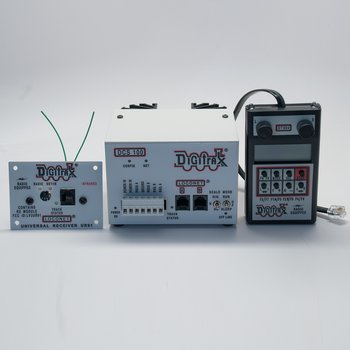 The Chief II Radio Equipped starter set contained a DCS100 command station, a DT300R throttle, a UR91 Radio Receiver, and a LT1 LocoNet tester. The set also included a premium decoder in N, HO, or G scales.



Produced from 2000-2005
DCS100 Command Station / Booster:
Full LocoNet Capabilities for easy plug 'n play installation and system expansion

Run up to 120 locos and 120 throttles in command station mode.

Provides additional power to run more trains in booster mode.

Can be used as an Intelligent Auto Reversing Booster

Use with any LocoNet throttle

Read/Write programming with CV readback

Two DCC outputs so you can run your trains and program at the same time.

Built in 5 Amp Digital Command Control Booster Rated at 80VA.

Many command station options are user customizable.

Auto resetting over temperature & short circuit protection.

User selectable multi-scale operation for N, HO, and large-scale layouts

Track Status indicator shows voltage and signal type (DCC or "Zero Stretch" Analog Signal for conventional operation.)

Stabilized Track Drive Output.

Over Voltage Protected.

Auto shutdown if command control drive signal is lost so that the layout will not convert to DC operation if a cable or connection is broken. The trains won't just "take-off" if they are not getting the DCC signal.

Complies with FCC Part 15, Class B RFI Requirements.

DCC Compatible.
DT300R Features:
Dual click encoder throttles offer the finest speed control available. The encoders can also be used to select loco addresses to run and to reverse the loco controlled by the throttle knob by double clicking the knob.

Multi-line backlit LCD display lets you see loco address, speed, direction, function status and more by simply glancing at your throttle!

Four digit operation is really simple!

Access to functions 0 through 8.

Access to switch control for controlling turnouts and other layout animation.

Universal Consisting, Advanced Consisting & Basic consisting.

2 digit & 4 digit addressing.

Program decoders from your DT300.

No battery required when operating in the tethered walkaround mode.

Turnout position reporting.

Infra-ready! Just add UR90s for tetherless operation.

Raido Ready! Just add UR91s for radio operation.

Fast Clock Display
UR91 Features:
Plug 'N Play with any LocoNet system

Simplex radio throttle must plug in to select, dispatch, or program locomotives

Simplex radio operates in the 900Mhz band

Supports approximately 10 radio throttles

Supports both Simplex Radio and infrared operation at the same time

Most layouts need only one UR91

One RJ12 6 pin Throttle jacks in the front of the panel for hooking up throttles and other LocoNet devices that do not use RailSync.

Two RJ12 6 pin LocoNet jacks in the back of the panel for hooking up LocoNet devices that use RailSync.

Gives your layout a professionally finished look.

Indicator LED that shows the power state of a local track section.

Two #6-32 right angle screw terminals for local track connections for power and diagnostics.
Specifications
Replaced by

Super Chief Radio Equipped 5 Amp Starter Set

Original Release Date

2000-2005
Product Support
Supporting Documentation
Bundled Items
This product is a set, containing the following products:
Tech Support Depot