DH83

2 Amp Mobile Decoder This product has been replaced by the 3 Amp DCC Mobile Decoder (DG380L) and is no longer available. Click here to view the DG380L.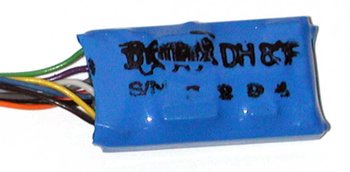 2 Amp Digital Command Control Mobile Decoder. Stamped as both DH83 and DH83F.
Designed for use with HO, O, S, O-27 & G Scale Locomotives
These units are no longer repairable.
Retired in 1996
2.0 Amp (4.0 Amp Peak) Mobile DCC Decoder
Designed for use with HO, O, S, O-27 & G Scale Locomotives
Compatible with DCC industry standards
Interoperable with other DCC systems
Open address range with full 236 address capability
User programmable Address, Acceleration, Deceleration,
Start-voltage & Mid-point voltage
Programmable from DCC compatible equipment without opening the loco
Smooth conversion to analog operation
Controllable constant brightness directional lighting outputs rated at 200ma
Smooth locomotive speed control with user selectable
14, 28, or 128 forward & reverse speed step capabilities
User loadable speed tables for customized speed control
3 function outputs rated at 200ma
Heavy duty motor drive output
Actively protected against motor short circuits
Smooth deceleration to stop before changing direction when locomotive is reversed while moving
Specifications
Current Rating-Motor

2.0 Amps (4.0 Amps Peak)

Size

0.67" x 1.2" x 0.25" (17.02mm x 30.48mm x 6.35mm)

Installation

Wired (read more)

Decoders with wires provided for hooking up the decoder in the locomotive. If wires are not provided for hooking up functions, solder pads are provided to allow you to access those functions by adding wires.

Digitrax Mobile Decoder Wire Colors

| | |
| --- | --- |
| What the wires are for | Wire Color |
| Power Pick-up Right (Engineer's Side) | Red |
| Power Pick-up Left (Fireman's Side) | Black |
| Motor + Right Brush | Orange |
| Motor – Left Brush | Gray |
| F0(Fwd)-Forward Light | White |
| F0(Rev)-Reverse Light | Yellow |
| Lamp Common | Blue |
| F1-Function 1 | Green |
| F2-Function 2 | Violet |
| F3-Function 3 | Brown |
| F4-Function 4 | White w/ Yellow Stripe |
| F5-Function 5 | White w/ Green Stripe |
| F6-Function 6 | White w/ Blue Stripe |

Note: DH82 & DN92 decoders, some of the very first decoders produced by Digitrax used a different wiring color code. Please check decoder spec sheets for the wire colors that were used with these decoders.

Function Outputs

3-200mA (read more)

3 function decoders support F0 Forward and F0 Reverse. This allows for reversing headlights and one additional function.

The combined current available for these two functions is 200mA.

How functions are numbered:

F0 (FWD) White

F0 (REV) Yellow

The Blue wire is Lamp Common to allow for continuous lamp operation.

F1 Green

F2 Violet

F3 Brown

F4 White with Yellow Stripe

F5 White with Green Stripe

F6 White with Blue Stripe

F7

F8

F9

and so one are each counted as one function. This is an industry wide convention.

Function Type

Standard (read more)

Standard functions turn functions on and off. Many Digitrax decoders with standard functions offer head lights that can be set up to be either automatically reversing or individually controllable. Digitrax decoders are shipped with automatic reversing head lights enabled. When you are using a standard function output, simply hook up the function output to the function device and you will be able to turn it on and off from your throttle.

Replaced by

DG380L
Product Support
Supporting Documentation
Tech Support Depot
Bundled
This product is also included as part of the following sets: