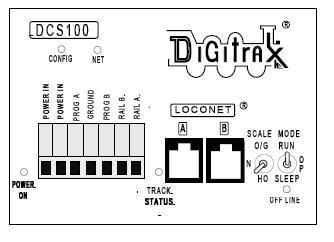 The two "POWER IN" terminals on all Digitrax boosters & command stations are the power input connections.

Digitrax recommends the PS514 to power the DC200 and DB150. Set the voltage setting on the PS514 to 16.8v or 19v. The PS2012 can also be used to power the DCS100 and DB150. The "Y" cable provided with the PS2012 has an embedded 5 amp current protection. The PS2012 can also be used to power the DCS200. The "Y" cable is not suitable for use with the DCS200 since it has an 8 amp. output.

When powering your layout, make sure that all polarities and phases are consistent throughout the layout and that proper ground connections are made.

Any power supply that meets the following requirements can be used to power the DCS100 and DB150s.

DCS100 Transformer Requirements

Most DC model railroad power packs will not supply 5 amps to the DCS100 or DB150, because they were designed to run only 1 or 2 locomotives in a DC blocked system. With DCC you'll be running multiple locomotives in the same power district so, you'll need to provide more power to each district.

Note: Power to the DCS100/DB150 should not be rapidly cycled ON-OFF-ON. When power to the unit is switched off, wait 30 seconds before turning on the power again.