UP3

Universal Panel This product has been replaced by the LocoNet Universal Interconnect Panel (UP5) and is no longer available. Click here to view the UP5.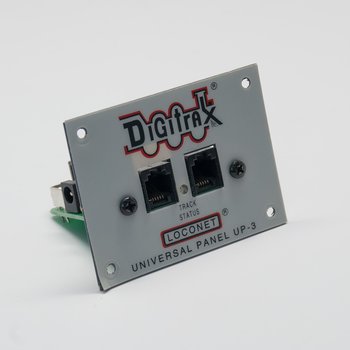 Add more connections to your LocoNet system.

UP5 Simplifies hook-up, maintenance & troubleshooting of LocoNet, add a few to make traditional tethered walk-around operation a snap.

Retired in 2005
UP3 Features:
Plug 'N Play Instalation

Gives your layout a professionally finished look.

Two RJ12 6 pin LocoNet jacks in the back of the panel for hooking up LocoNet devices

Two RJ12 6 pin Throttle jacks in the front of the panel for hooking up throttles

Indicator LED that shows the power state of a local track section.

2mm power jack that allows you to make the UP5 a battery saver terminal for your throttles by plugging in a PS14 DC power supply.

Two #6-32 right angle screw terminals for local track connections for power and diagnostics.
Specifications
Product Support
Supporting Documentation
Tech Support Depot
Bundled
This product is also included as part of the following sets: