GEN

Genesis This product has been replaced by the Genesis II (GEN) and is no longer available. Click here to view the GEN.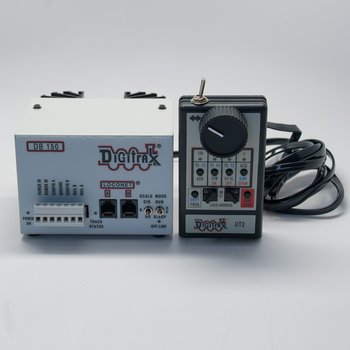 The Genesis starter set was introduced as a basic entry level system. The set included a DB150 Command Station/Booster, UT2 Utility throttle, a Mobile Decoder, and a LT1 LocoNet Tester.

Retired in 2000
DB150 Command Station / Booster:
Full LocoNet Capabilities for easy plug 'n play installation and system expansion

Run up to 22 locos and 22 throttles in command station mode.

Provides additional power to run more trains in booster mode.

Can be used as an Intelligent Auto Reversing Booster

Use with any LocoNet throttle

Built in broadcast write only programmer

Built in 5 Amp Digital Command Control Booster Rated at 80VA.

Many command station options are user customizable.

Auto resetting over temperature & short circuit protection.

User selectable multi-scale operation for N, HO, and large-scale layouts

Track Status indicator shows voltage and signal type (DCC or "Zero Stretch" Analog Signal for conventional operation.)

Stabilized Track Drive Output.

Over Voltage Protected.

Sync output configures DB150 Operating Mode & connects the DB150 to expansion boosters

High impedance balanced or unbalanced signal input receivers on the LocoNet Interface allow boosting of several different types of command control signals.

Auto shutdown if command control drive signal is lost so that the layout will not convert to DC operation if a cable or connection is broken. The trains won't just "take-off" if they are not getting the DCC signal.

Complies with FCC Part 15, Class B RFI Requirements.

DCC Compatible.
UT2 Features:
simple, cost effective throttles feature one large knob for speed control and a direction switch for direction control. Great add on throttle for all Digitrax Starter Sets, especially Zephyrs!

Locomotives are selected with dial switches so that you can immediately see which loco is assigned to the throttle. Unique locomotive selection allows you to pick up running locomotives at their current speed.

Utility Throttles can control 4 functions. These throttles are perfect for casual users and for those who prefer a more "traditional" throttle.

The Utility Throttles are LocoNet Throttles, designed to operate on existing Digitrax LocoNet systems. These throttles can acquire & run one locomotive or consist (even the ones with four digit addresses). The user can control speed, direction, & functions for these units. By pressing Run/Stop, the user can stop the unit he is running but will not stop the whole layout.

128 speed step operation! You can select 14, 28, or 128 speed step operation for each individual Digitrax or other compatible DCC decoder when you program it so you don't have to sacrifice performance if you have some decoders that have 128 speed steps & some that don't.

LED indicators, selection knobs and large speed control knob show throttle status at a glance & make operation easy.

The large speed control knob gives incredibly fine speed control. When you select a loco, if the speed control knob position does not match the locomotive's actual speed, the LED indicators will flash to let you know that you need to match the speed control knob to the actual loco speed before you lock on to that loco. Capable of controlling Dispatched UniVersal or Basic Consists

Control F0, F1, F2 & F3 from the keypad. These functions can be used for lighting, sound, etc.

Utility Throttles are set up for easy access to 2 digit addresses 00-98. Address 99 is set up so that you can use it to select locomotives with 4 digit addresses. This gives you access to all 2-digit and 4 digit DCC decoder addresses.

Utility throttles operate without a battery. Because of this, Utility Throttles will not work on LocoNet systems using stereo jacks as plug ins.

The UT2 has programming capabilities that give you access to CV's 01-90. You can program address, start mid & max voltage, loadable speed tables, acceleration, deceleration, FX effects and much more.
Specifications
Replaced by

Genesis II Starter Set
Product Support
Supporting Documentation
Bundled Items
This product is a set, containing the following products:
Tech Support Depot