DH84

1 Amp HO Mobile Decoder This product is retired, and is no longer available.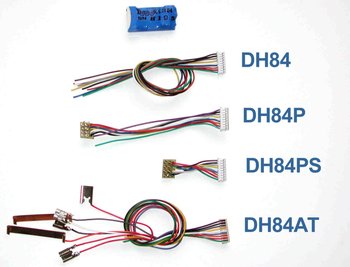 1 Amp Mobile Decoder with 9pin Plug. Also available with P,PS, and AT style harnesses sold as DH84P, DH84PS and, DH84AT

Retired in 1996
Specifications
Current Rating-Motor

1.00 Amp (1.5 Amps Peak)

Size

0.67" x 1.05" x 0.25" (17.02mm x 26.67mm x 6.35mm)

Installation

Wired, NMRA Plug, or Athern Clips

Function Outputs

4 - 200mA

Function Type

Standard (read more)

Standard functions turn functions on and off. Many Digitrax decoders with standard functions offer head lights that can be set up to be either automatically reversing or individually controllable. Digitrax decoders are shipped with automatic reversing head lights enabled. When you are using a standard function output, simply hook up the function output to the function device and you will be able to turn it on and off from your throttle.
Product Support
Supporting Documentation
Tech Support Depot
Bundled
This product is also included as part of the following sets: