DB100a

5 Amp DCC Booster with Auto Reversing This product has been replaced by the 5 Amp DCC Command Station/Booster with Intelligent AutoReverse (DB150) and is no longer available. Click here to view the DB150.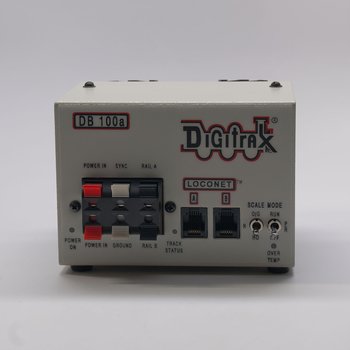 Second Generation of DB100 Booster. Shipped with Challengers and early Big Boy Sets.
Discontinued in 1998.
DB100a Features:
Multi Featured Command Control system when used with CT4
4.5 amp Multi-Scale booster
Intelligent Auto-Reverse
Accepts AC or DC input
Over Voltage Protected
Auto-Resetting over teperature protection
Auto-Resetting over current protection for short-cicuit protection
LocoNet
Auto-Shutdown on loss of command control drive signal
Dual color LED indicates and diagnoses signals sent to track
Track OFF switch allows suspension of track power while input power is still coming in to the booster.
Specifications
Product Support
Supporting Documentation
Tech Support Depot
Bundled
This product is also included as part of the following sets: