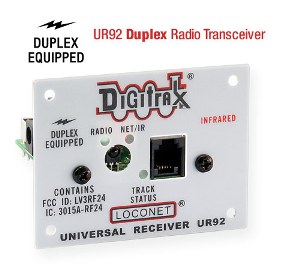 Setting the Duplex Group Channel:

You can use this capability to move the duplex channel away from possible signal interference.

1. Connect the DT402D to the front RJ12 jack of any UR92 on the LocoNet.

2. On the DT402D press the opTN key and then the EDIT key.

3. The 8 character Duplex Group name will appear in the display center.
4. Use the R Throttle knob to change the first character value. It will blink as it is changed. When the desired character is seen, use the L Throttle knob to move across and select a character to modify.
5. Press the ENTER key to update the current displayed characters as the new UR92 Duplex Group Name.
To skip making any changes, simply press the EXIT key.
6.After changing the Duplex Group Name, your other DT402Ds will need to rejoin to use this new Group Name.
Note: As long as Duplex Group Name is unique, it is possible to run dozens of different layouts on the same channel number in close proximity.