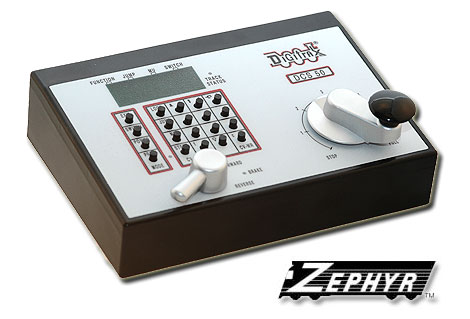 Switch Mode is used for sending commands to accessory decoders and for changing Option Switches (OpSw) in your DCS50.

The most common use of switch mode is for operating turnouts (track switches).

To change the position of a turnout:

This note assumes that you have already installed and programmed turnouts and turnout decoders on your layout. Each turnout is connected to a stationary decoder that controls the operation of that turnout. There are several different stationary decoders for this purpose such as DS64 and others. Please see the related articles below.

1. Press the SWITCH Key.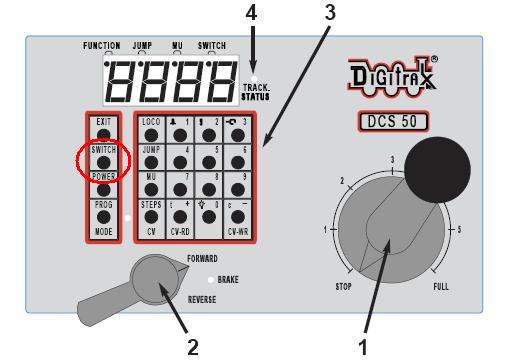 2. The last switch address selected by your throttle is displayed followed by a panel indication. It will show:





The Switch Indicator Dot is lit to remind you that you are in Switch Mode.

NOTE: The "c" or "t" shown in the display may or may not match the physical position of the turnout selected. If the "c" or "t" is flashing, it means that the DCS50 has no information about the current position of the turnout. If the c or t is steady it means that the DCS50 remembers the last command sent by it to that turnout. This indication does not guarantee turnout position since, the turnout may have been moved by hand and the DCS50 has no way of determining actual turnout position.

The examples below show turnout address 087 first closed and then thrown:





3. Use the numeric keypad to enter the turnout address for the turnout you want to change.

4. Press the c/- key to close the turnout or the t/- key to throw the turnout.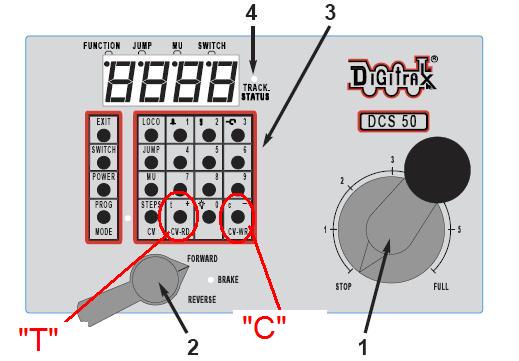 Note: While you are in SWITCH mode, the throttle knob and direction lever will continue to control the loco address running on the throttle.

5. When you have finished your SWITCH operations, press EXIT to return to normal operation mode.

Zephyr Option Switches

Zephyr can be configured using the Switch Mode. Please see the related articles on Option Switches.