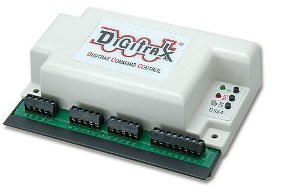 When using more than one DS64 in a DCC environment, you must assign a Board ID to each additional DS64 so that each one has a unique Board ID.

You will need to set the DS64's board ID if you are planning to use the DS64's 8 inputs with a computer, system throttle, or other smart device on your layout that needs to know when a turnout has been manually thrown or closed via a particular DS64.

You can use the 8 inputs on the DS64 to control the operation of the 4 outputs that control your turnouts. For example, you can use push buttons located adjacent to a track switch to operate that turnout.

Note: Keep track of the Board IDs you have programmed in the DS64s on your layout and make sure each one has a unique ID.

To set the DS64 Board ID for use with inputs:

1. Press and hold the STAT button on the DS64's control panel down for approximately 10 seconds. The STAT LED will blink at a fast rate and after approximately 10 seconds it will change to a slow blink rate. To enter ID set up you must release the STAT button as soon as the blink rate changes or the DS64 will time out and you'll have to start again.

2. Use your DCC throttle in Switch mode and select a Switch address between 01-256 and send a Closed or Thrown command. The LEDs will go dark, indicating that the Board ID has been set.

Note: To exit this mode, you must set a board ID.