What is Sw (Switch) Mode?

Switch mode is used by throttles for sending commands to accessory decoders and for changing option switches in your LocoNet system. The most common use of switch mode is for operating turnouts.

Switches are either thrown or closed.

To change the position of a switch or turnout:

1. Press the SWCH key to enter switch mode.

When you enter Switch mode, the throttle knobs & direction keys continue to control the loco addresses running on the throttle.

Loco speed is displayed on the bar graph and loco direction is displayed on the direction indicators for each throttle.

The numeric keypad is used to enter switch numbers and the OPTN t and CLOC c Keys are used to set the switch to thrown or closed.

2. The last switch decoder address selected by your throttle is displayed on the text line followed by a "c" or a "t".

3. The LCD indicates the switch position using the c or t as follows: "t" indicates that the switch is "thrown" (for a turnout, the diverging route is set) "c" indicates that the switch is "closed" (for a turnout, the mainline route is set)

If the "t" or "c" indicator is flashing it means that the LocoNet Command Station does not know the current switch position.

A steady "t" or "c" indicates that the command station knows the position of the switch.

Example: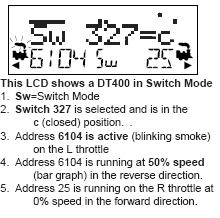 4. Use the numeric keypad to enter the switch address you want to change.

5. Once the desired switch address appears in the text area of the throttle, you will see either "c" or "t" on the right side of the = sign in the display.

If the "c" or "t" is flashing, the command station does not know the position for this turnout.

Press the OPTN t Key to move the switch to the "thrown" position OR the CLOC c Key to move it to the "closed" position.

6. If the switch you selected is a turnout connected to an accessory decoder, it will change position from closed to thrown or vice-versa.

If the switch you selected is an op switch setting for your command station, the software switch inside the command station will be changed.

7. After commanding the switch "closed" or "thrown" the switch position display will stop flashing, since the command station now knows the current switch position.

Note that the accessory decoders in the system are accessible to all throttles or control devices with switch control capabilities & are not reserved in-use to a single throttle like locomotive decoders.

8. When you have finished your Sw (switch) operations you can return to Fn (Normal Operating Mode) by pressing the EXIT Key or the FUNC Key.

9. The next time you enter Sw mode , the DT402/DT400 will remember where you left off & start at the last switch address & position you accessed.