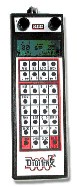 While the DT400 series throttle is being used tetherless, there are occasions when you may want to disable the throttle's controls to prevent accidental commands being sent to the railroad.

For example, your train is in a siding waiting for another train to pass.

You put your throttle in your pocket and go take a break.

By locking the throttle controls, you will not be able to accidentally start your train if you bump your throttle knob or press the Y + Key .

To lock the controls on your DT400

1. Press both the Y + and the N - Keys at the same time.

When you are locking the keyboard be sure to press both the Y+ & N- Keys AT THE SAME TIME to avoid sending a speed command to the active loco.

2. The throttle will display Lock=+&- in the display and none of the controls will function until you unlock them.

To unlock the controls with Lock =+&- on the display:

1. Press both the Y + and the N - Keys at the same time again.

This will return the throttle to normal operation.

2. Plugging the throttle into LocoNet will also unlock the throttle.