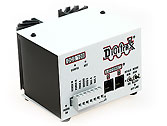 Can I convert my DCS100 to a

booster

.

I cannot find the switches in the instructions to accomplish this.

Is it too old?.

Can I return it for repair to accomplish converting it to a

booster

?

The DCS100 is already a

booster

combined with a

command station

, but it can be converted to act as an expansion

booster

by using option switch 2 (OpSw02).