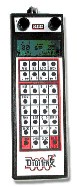 I have a DCS100.

I do not understand why my DT400's speed increases (all the way up to 99) sometimes when I plug it in.

Also, sometimes the Loco number (when selected when this is taking place) will increase too.

There is no control enabled when this is taking place.

If I plug in a DT100 it operates normally.
One of the buttons on the DT400 may be stuck, leading to this behavior.
Take a look at the control panel of the DT400 and you will probably see this stuck button since it will not be in a fully returned position.
You may find it helpful to take a modeler's knife and
gently
cut the front graphic foil
slightly
away from the button.