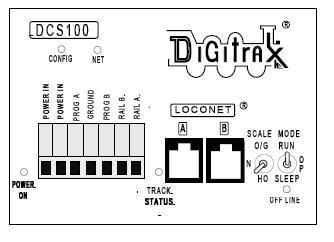 The MODE and SCALE switches are used to configure the DCS100 for your railroad.

The 3 MODE switch settings are:

RUN is for normal operations.

OP is used to customize the DCS100 by changing its option switch settings.

SLEEP is used to shutdown the system and all

throttles

that are plugged in to the system.

SCALE Switch (O/G HO N) This switch sets the maximum track voltage limit.

1. Set the DCS100's SCALE switch to the scale you are running (N, HO, O\G).

Use the lowest setting (N, HO, or O/G) that will run your layout.

2. Set the MODE switch on the DCS100 to the RUN position.

3. Once you have connected the two terminals on the DCS100 marked POWER IN to the transformer and plugged in the transformer to power up your booster, the DCS100 will beep once and its POWER ON LED will come on.