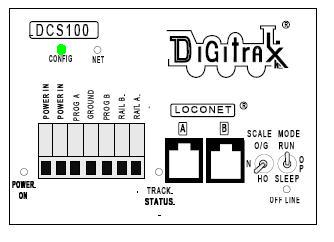 The green CONFIG Indicator shows the primary operating mode of the DCS100.

This indicator should be steady green blinking off briefly once every 4 seconds.

This indicates that the setting for DCS100 Option Switch 05 is set up correctly.

If you see 8 blinks every 4 seconds then we recommend that you change the DCS100 Option Switch 05 to closed.

The DCS100 will operate correctly in either case.

The CONFIG Indicator will be mainly off when DCS100 option switch 01 is incorrectly set to closed.

In this case you must change option switch 01 to thrown for correct operation.