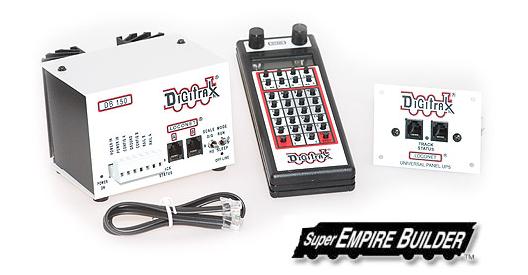 There are times when it is necessary to reset the Super Empire Builder.

Because this is a system reset, there are special instructions:

There are different levels of system reset.

OpSw 36: Clears all mobile decoder information, including locomotive consists.

OpSw 38: Clears the locomotive roster (such as when you receive a "slot=max" error report).

OpSw 39: Full reset, clears all internal memory states.

The factory default setting for all DB150 option switches is t or "thrown"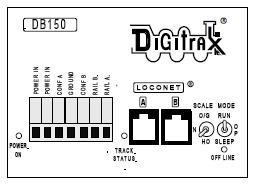 The Initial Procedure

1. Determine which DB150 option switch you want to change, 36, 38 or 39.

2. Move the Mode toggle switch on the front of the DB150 into the OP position.

The LocoNet Rail Sync will go inactive & all other boosters, including the one that is built into the DB150 will shut down.

3. Disconnect the LocoNet cable(s) from the DB150 you are resetting.

4. Connect a DT40x series throttle directly to either DB150 LocoNet Jack A or B (other DT-series throttles may also be used).

5. If you are using a DT40x series throttle, press the SWCH Key on the throttle to enter Sw (Switch) mode.

If you are using a DT300 seies throttle, press the MODE key on the throttle to enter Sw (Switch) mode.

Since the DB150 is set for OP or Option Switch setup mode, switch commands from a DT throttle will now change the option switch settings inside the DB150 & NOT turnouts or other accessories on the layout.

6. Use the throttle knobs to dial up the option switch number that you want to change, 36, 38 or 39 or you can input the option switch number using the keypad.

The option switch number will appear in the left side of the display and the right side of the display will show either c or t to indicate the current state of the option switch.

Completing the Reset Procedure

7. Press the "c' (CLOC) key to set the op switch.

If you are using a DT300 series throttle, press the R Reverse Key to set the op switch to "c".

8. Set the DB150 to "SLEEP" mode.

9. Set the DB150 back to "RUN" mode.

10. The specified reset operation will occur.
11. Plug in any LocoNet cables that were previously unplugged in Step 3.