The prototype operation that gains the most from DCC is one of those least frequently modeled today: Rapid transit. Rapid transit consists of streetcars, interurban, subway, elevated or commuter rail track and equipment. The trains are usually very short and intervals between trains are relatively brief. Lots of trains run each hour and many trains are running at the same time. All of this operation is very much like a typical model railroad. Any photograph of a major downtown in the streetcar era will have from two to ten streetcars visible with some only feet apart. Simulating this type of operation with conventional control would be almost impossible because of the large number of very short blocks necessary to run the trains as close together as is prototypical. DCC makes it possible to simulate this type of control and operation. Modem light rail rapid transit is very similar, but does not usually reach the same high density of trains. Here is an example of a simulation of the prototype in a real world non-model environment, constructed as a commercial application of DCC technology. This case study shows the power of Digitrax command control and LocoNet. This railroad was built in the 1990's, and, as such, some of the hardware used in the construction of this example are now superseded by improved components. Yet, it remains an interesting study. PUTRA (Kelana Jaya Rail Line)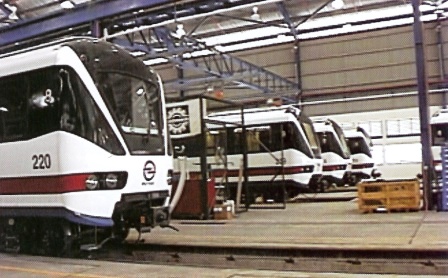 PUTRA (Projek Usahasama Transit Ringen Automatik), now called the Kelana Jaya Rail Line, is the third rapid transit line built in Kuala Lumpur, the capital of Malaysia. This new rapid transit line, 29 kilometers (18 miles) long, was completed in early 1999. Part of a larger integrated rail and bus transportation network serving a city of 7 million, the PUTRA line is made up of twenty-five stations, including stations underground, at grade and elevated above grade. The line also includes a maintenance and storage yard and a reversing loop at one end of the line. The other end of the line is a simple stub terminal with four storage tracks. The line is completely computer controlled from a central control station by supervisors watching the line through remote cameras. The trains normally operate without drivers. Except for using completely automated computer control, the Kelana Jaya Rail Line operates like many US rapid transit lines. This kind of operation is used in San Francisco's BART, Atlanta's MARTA and Boston's MBTA. Each train has two operator's panels so that the trains can be controlled manually in the yard, in an emergency or under unusual circumstances. PUTRA decided to have a model built as a simulation of part of their system to: 1. simulate their operating practices 2. train their operators in the many aspects of manual operation 3. train their supervisors 4. simulate various emergency situations.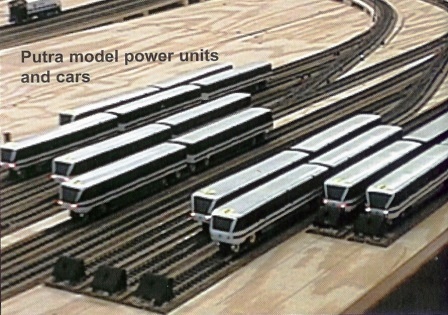 Armin Bacher, a long time Digitrax enthusiast, was selected by PUTRA to build the model in H0 scale. The model was built in nine 78 inch by 36 inch sections. Construction and testing was done in the USA, then the model was crated and shipped to Kuala Lumpur.

Part 1 of 5

Information originally printed in The Digitrax Big Book of DCC.