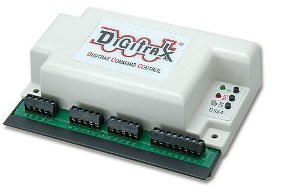 Can I use the DS64 to power frogs in Atlas turnouts with solenoid ( code 83 ) type switch machines?

No, the DS64 does not have internal contacts to provide power to the frogs.

This could be done by using a switch machine with its own contacts; these have been made by NJ International, Tenshodo, PFM and others.

Another alternative would be to use the Atlas Snap Relay.


The Snap Relay is a solenoid device like the switch machine, but instead of throwing the turnout, it throws a set of electrical contacts.

The relay is wired in parallel to the switch machine, which means that when power is sent to the switch machine, it is also sent to the relay, which results in the operation of both.

You would use the contact points of the relay to send power to the turnout frog.

The Atlas Snap Relay includes an instruction sheet which details how to use the relay in this type of application.