Regulated

power supply

delivers more power with less heat for more efficient

booster

operation.
Operates up to 4 Five amp boosters.
Scale

selectable

for use with N, HO or large scale.
DC Ammeter.
On/Off Switch.
Integral cooling fan.
Design coordinated for use with Digitrax products.
One "Y" Cable (P/N YC52) Included for convenience with dual 5 amp protected outputs
All secondary devices must be properly fused on their power input leads for their rated capacity.

For example if you intend to use the PS2012 to drive a 5 and an 8 amp booster, you must input fuse these devices for 5 and 8 amps respectively. A fuse can be a traditional fuse, a circuit breaker, a thermal fuse or a Polyfuse type self resetting limiter.

The PS2012 can be used with Digitrax's DB and DCS100/200 series boosters. The PS2012 can be used to power other manufacturers boosters provided the input fusing guidelines are followed.
The overall dimensions of the PS2012 are 10 1/2" deep x 5 1/2" wide x 3 1/2" high

Installation Considerations

The PS2012 is overload protected. If a power supply shutdown occurs, unplug the power supply and allow at least 60 seconds for the PS2012 to reset before plugging it in again.

Ventilation. The rear fan and intake vents must remain unobstructed. Airflow in this area should not be restricted to allow for cooling. Avoid placing objects within 2 inches of the intake vents or exhausts of the fan itself.

Front panel controls and connectors provided on the front panel are: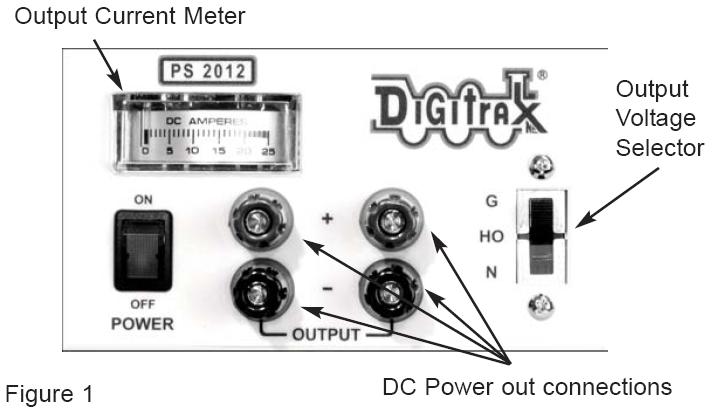 On/Off Switch
DC connectors - Figure 1 shows DC power-out connectors. Two pairs of binding posts are provided for ease of connection to multiple boosters. In addition to the power on/off switch, the PS2012 has a selector switch for N scale, HO scale, and G (or large scale) operation. The unit also has a built-in output current meter for monitoring total layout current load.
DC Amperes output current meter
Scale

selectable

outputs for N, HO, or Large scale operation
Dual DC output connections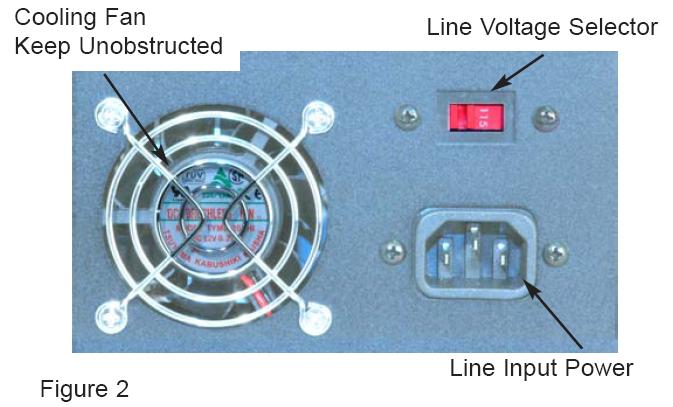 The PS2012 comes with a 3 prong plug (2 power and ground).
This unit must be used with a properly grounded AC receptacle.
Input power is switch

selectable

and supports 115 or 230 volt operation. For 230 volt operation, please obtain from local sources the appropriate power cord with an IEC type inlet plug.
Please insure it is a grounded 3 wire type cord constructed of 18 AWG wire and rated for at least 250 volts.
Configuration

To connect the PS2012 to boosters and other 5 amp rated devices, use the 'Y' cable shown below: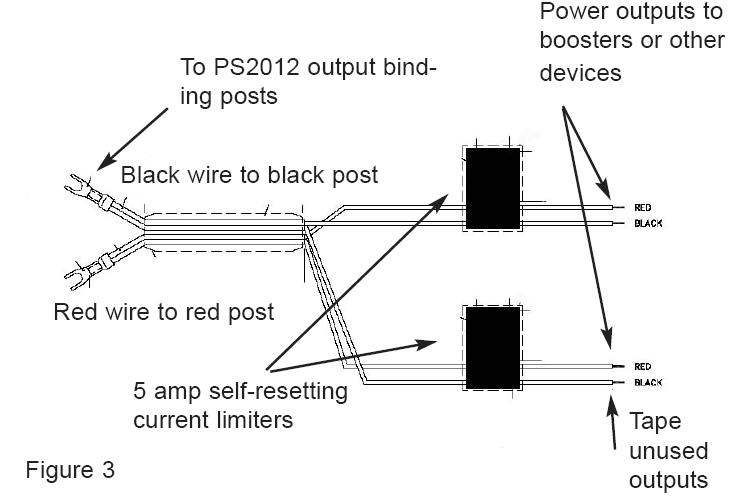 Two 'Y' cables are required for 4 boosters at 5 amps.
Additional 'Y' cables can can ordered from your local dealer.
The 'Y' cable part number is YC52.

The final step is to properly set the front panel selector switch for the scale you are running:
The 'G' setting configures the supply to output 23 volts at 12 amps max.
The 'HO' setting configures the supply to output 18 volts at 15 amps max.
The 'N' setting configures the supply to output 13.8 volts at 20 amps max.