Union Pacific Big Boy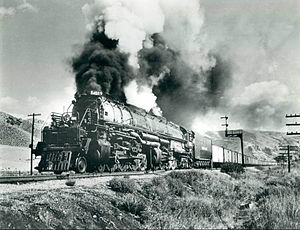 Union Pacific Big Boy

Power type: Steam
Builder: American Locomotive Company
Build date:1941 (20), 1944 (5)
Total produced: 25
Configuration: 4-8-8-4
UIC classification: (2'D)D2' h4
Gauge: 4 ft 8 1/2 in (1,435 mm)
Leading wheel diameter: 36 in (914 mm)
Driver diameter: 68 in (1,727 mm)
Trailing wheel diameter:42 in (1,067 mm)
Wheelbase: 72 ft 5.5 in (22.09 m)
Length Locomotive: 85 ft 3.4 in (25.99 m)
Overall: 132 ft 9 1/4 in (40.47 m)
Width: 11 ft (3.4 m)
Height: 16 ft 2 1/2 in (4.94 m)
Weight on drivers: 540,000 lb (244,939.9 kilograms)
Locomotive weight: 762,000 lb (345,637.4 kilograms)
Tender weight: 342,200 lb (155,219.3 kilograms) (2/3 load)
Locomotive & tender combined weight: 1,250,000 lb (566,990.5 kilograms)
Fuel type: Coal
Fuel capacity: 28 short tons (25.4 t; 25.0 long tons)
Water capacity: 25,000 US gal (95,000 l; 21,000 imp gal)
Boiler: 95 in (2,400 mm)
Boiler pressure: 300 lbf/in² (2.1 MPa)
Firegrate area: 150 sq ft (14 m2)
Heating surface: Tubes and flues 5,035 sq ft (468 m2)
Heating surface: Firebox 720 sq ft (67 m2)
Heating surface: Total 5,735 sq ft (533 m2)
Superheater type: Type A
Superheater area: 2,043 sq ft (190 m2)
Cylinders: Four
Cylinder size: 23.75 in × 32 in (603 mm × 813 mm)
Top speed: 80 mph (130 km/h)
Tractive effort: 135,375 lbf (602.18 kN)
Factor of adhesion: 4.11
Career: Union Pacific Railroad
Class:
4000–4019: 4884-1
4020–4024: 4884-2
Last run: July 21, 1959
Preserved: 4004, 4005, 4006, 4012, 4014, 4017, 4018, 4023
Disposition: Eight preserved, remainder scrapped.

Sound Projects
There is 1 Sound Project for this Locomotive
UPbigboy 8 bit project by John McMasters, added on May 9, 2013
This project takes the baseline from the EM-1 to create a Coal burning version of the articulated sounds where cylinder 2 is in voice 2 and cylinder 1 plays in voice 1.
This makes it possible for the two cylinder sounds to fall out of sync and sound more real.
The locomotive sounds were created from vague impressions from an old UP production movie. The UP sounds were only used to get the pattern and timbre for the chuffs, whistle and other sounds.
Please see project description for full description and list of features.
SoundLoader Software
Using your PR3 programmer and SoundLoader Software, it's quick and easy to download sound project files into your Digitrax FX decoders.
Format Information
With Digitrax Sound FX decoders and downloadable sound project files (.spj), you can download your choice of sound schemes into any Sound FX equipped locomotive. You can use spj's that are available for free, you can modify those schemes or you can create your own!
Sound Decoders
Digitrax offers a wide variety of Sound FX decoders to fit many different locomotives. You'll need to have a Digitrax SFX decoder installed to take advantage of using .spj files.
Click here for Digitrax Sound FX decoders
Submit your Sound Projects
Use our submission form to submit your Sound Projects

Click here to submit your sound project