Traction/Trolley Generic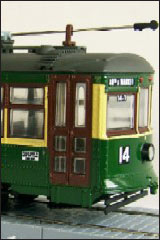 A tram (also known as tramcar; and in North America known as streetcar, trolley or trolley car) is a rail vehicle which runs on tracks along public urban streets, and also sometimes on a segregated right of way. The lines or networks operated by tramcars are called tramways. Tramways powered by electricity, the most common type historically, were once called electric street railways (mainly in the USA).
Sound Projects
There is 1 Sound Project for this Locomotive
SoundLoader Software
Using your PR3 programmer and SoundLoader Software, it's quick and easy to download sound project files into your Digitrax FX decoders.
Format Information
With Digitrax Sound FX decoders and downloadable sound project files (.spj), you can download your choice of sound schemes into any Sound FX equipped locomotive. You can use spj's that are available for free, you can modify those schemes or you can create your own!
Sound Decoders
Digitrax offers a wide variety of Sound FX decoders to fit many different locomotives. You'll need to have a Digitrax SFX decoder installed to take advantage of using .spj files.
Click here for Digitrax Sound FX decoders
Submit your Sound Projects
Use our submission form to submit your Sound Projects

Click here to submit your sound project