SOU 630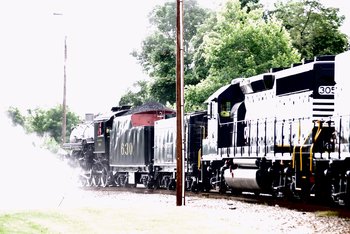 Southern Railway 630 (commonly referred to as Southern 630) is a 2-8-0 Consolidation type steam locomotive built in February 1904 by the Richmond Works of the American Locomotive Company for the Southern Railway as a member of the Ks-1 Consolidation class.
The locomotive was put into local and branch line service in Knoxville, Tennessee by Southern Railway and moved to Asheville, North Carolina to run on the Murphy Branch until it was retired from revenue freight service in 1952.[2] In November of that year, 630 was purchased along with sister engine 722, by the East Tennessee and Western North Carolina Railroad (ET&WNC) and were both renumbered to 207 and 208 respectively.[3][2][1]
In December 1967, Ks-1 sisters were traded back to the Southern for use in their steam excursion program and reverted to their former identities in return for a pair of former Central of Georgia Alco RS3s. 630 and 722 pulled many excursion trains for Southern until replaced by larger steam engines to pull the longer and heavier excursion trains in 1978 and 1980.
After that, Southern loaned 630 and 722 to the Tennessee Valley Railroad Museum (TVRM) in Chattanooga, Tennessee to run their Missionary Ridge Local.[5] In the mid 1980s, 722 was taken out of service for its boiler ticket certificate and was moved by Southern's sucessor Norfolk Southern (NS) from TVRM to Asheville, NC to be on display at the city in 1992.[4] In November 1989, 630 was taken out of service and put in storage awaiting for an extensive overhaul.
https://en.wikipedia.org/wiki/Southern_Railway_630

Sound Projects
There is 1 Sound Project for this Locomotive
SOU 630 8 bit project by John McMasters, added on Feb. 14, 2013
This project is based on a generic heavy steam loco with sounds replaced to model SOU 630 built by American Locomotive Company. New features in this project include:
-on reversal clash with F15 and/or F11 is on [F15 off + F11 off = no extra sounds]
[F15 on + F11 on = all extra sounds]
[F11 controls auto clash and uncouple]
[F15 controls auto clash]
- auto rod clank cyl blow down (steam cocks open)
will coast after deceleration for up to 5 cycles playing ALT_RC
- coal grate
- coal chute
- auto brake on decelerate (two rates hard and short) F9 Leave on to enable auto brakes
(i.e. when stopped turn F9 on, will not sound when not moving, then with F9 still on when decel happens brakes will sound)
Additionally,
Low speed: A standing Locomotive collects condensed water in its cylinder as trapped steam cools. Since it isn't compressible, this water can blow out a cylinder head when the engine starts. To avoid this, the engineer first opens valves called cylinder cocks under each end of the cylinders(sometimes in the middle too ). Then when the engine starts, the exhaust steam comes Whoooshing out of the cylinder cocks with the condensate instead of chugging up the stack. Engines doing this spray steam from under their cylinder.
The starting steam cock open is controlled by CV147 (about =14) since steam loco has no drier.
Please see project description for full description and list of features.
SoundLoader Software
Using your PR3 programmer and SoundLoader Software, it's quick and easy to download sound project files into your Digitrax FX decoders.
Format Information
With Digitrax Sound FX decoders and downloadable sound project files (.spj), you can download your choice of sound schemes into any Sound FX equipped locomotive. You can use spj's that are available for free, you can modify those schemes or you can create your own!
Sound Decoders
Digitrax offers a wide variety of Sound FX decoders to fit many different locomotives. You'll need to have a Digitrax SFX decoder installed to take advantage of using .spj files.
Click here for Digitrax Sound FX decoders
Submit your Sound Projects
Use our submission form to submit your Sound Projects

Click here to submit your sound project