SD40-2 Diesel GM Diesel Scheme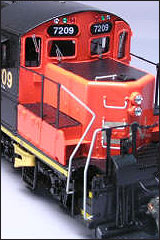 The EMD SD40-2 is a 3,000-horsepower (2,200 kW) C-C diesel-electric locomotive built by EMD from 1972 to 1989.
The SD40-2 was introduced in January 1972 as part of EMD's Dash 2 series, competing against the GE U30C and the ALCO Century 630. Although higher-horsepower locomotives were available, including EMD's own SD45-2, the reliability and versatility of the 3,000-horsepower (2,200 kW) SD40-2 made it the best-selling model in EMD's history and the standard of the industry for several decades after its introduction. The SD40-2 was an improvement over the SD40, with modular electronic control systems similar to those of the experimental DDA40X.
Peak production of the SD40-2 was in the mid-1970s. Sales of the SD40-2 began to diminish after 1981 due to the oil crisis, increased competition from GE's Dash-7 series and the introduction of the EMD SD50, which was available concurrently to late SD40-2 production. The last SD40-2 delivered to a United States railroad was built in July 1984, with production continuing for railroads in Canada until 1988, Mexico until February 1986, and Brazil until October 1989. As of 2013, nearly all built still remain in service.
The SD40-2 has seen service in Canada, Mexico, Brazil and Guinea. To suit export country specifications, General Motors designed the JT26CW-SS (British Rail Class 59) for Great Britain, the GT26CW-2 for Yugoslavia, South Korea, Iran, Morocco, Peru and Pakistan, while the GT26CU-2 went to Zimbabwe and Brazil. Various customizations led Algeria to receive their version of a SD40-2, known as GT26HCW-2.
SD40-2s are still quite usable nearly fifty years after the first SD40 was made, and many SD40s and locomotives from the pre-Dash-2 series (GP/SD 40s, 39s and 38s, and even some SD45s) have been updated to Dash-2 specifications, possibly including downgrading from 20-645E to 16-645E engines, including, certainly, Dash-2 electrical controls, although the pre-Dash-2 frames cannot accommodate the somewhat similar HT-C truck in the space allocated to the Flexicoil C truck (the frame is not long enough). Most SD40-2s which remain in service have by now been rebuilt "in-kind" for another 30 to 40 years of service, although a few (under 30) have been rebuilt to incorporate a 12-cylinder EFI-equipped 710G engine.
Prime mover typically 16-645E3, 16 cyl. turbocharged, GM Diesel
https://en.wikipedia.org/wiki/EMD_SD40-2
Sound Projects
There is 1 Sound Project for this Locomotive
sd40_2 8 bit project by Digitrax Inc., added on July 14, 2011
Digitrax SD40-2 Diesel GM Diesel Scheme Copyright (c) Digitrax Inc. July 8th 2007
Digitrax SD40-2 Diesel GM Diesel Scheme Copyright (c) Digitrax Inc. July 8th 2007
(C) General Notes
For CV155=01 ["Semi_automatic Notching"] when CV60=1=Diesel, the Prime mover lowest Notch setting is set by
the throttle speed setting. F6 (ON) can increase the Notch and F7 (ON) will decrease the Prime mover
to the minimum notch set by current throttle setting.
SoundLoader Software
Using your PR3 programmer and SoundLoader Software, it's quick and easy to download sound project files into your Digitrax FX decoders.
Format Information
With Digitrax Sound FX decoders and downloadable sound project files (.spj), you can download your choice of sound schemes into any Sound FX equipped locomotive. You can use spj's that are available for free, you can modify those schemes or you can create your own!
Sound Decoders
Digitrax offers a wide variety of Sound FX decoders to fit many different locomotives. You'll need to have a Digitrax SFX decoder installed to take advantage of using .spj files.
Click here for Digitrax Sound FX decoders
Submit your Sound Projects
Use our submission form to submit your Sound Projects

Click here to submit your sound project