RDC Diesel Scheme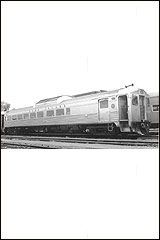 The Budd Rail Diesel Car, RDC or Buddliner is a self-propelled diesel multiple unit (DMU) railcar. Between 1949 and 1962, 398 RDCs were built by the Budd Company of Philadelphia, Pennsylvania, United States. The cars were primarily adopted for passenger service in rural areas with low traffic density or in short-haul commuter service, and were less expensive to operate in this context than a traditional diesel locomotive-drawn train with coaches. The cars could be used singly or several could be coupled together in train sets and controlled from the cab of the front unit. The RDC was one of the few DMU trains to achieve commercial success in North America. RDC trains were an early example of self-contained diesel multiple unit trains, an arrangement now in common use by railways all over the world.
Sound Projects
There is 1 Sound Project for this Locomotive
RDC Diesel Scheme 8 bit project by AJ Ireland, added on Feb. 3, 2014
Digitrax RDC Sound scheme. Copright (c) Digitrax Inc. July 18th 2007
Digitrax RDC Sound scheme. Copright (c) Digitrax Inc. July 18th 2007

project: rdc.spj
SDF: RDC Diesel Scheme
Author AJ Ireland
Digitrax Inc.

(A) Function Key Usage:

F0- Lights
F1-
F2- Horn, [CV150 selects Horn type]
F3- Coupler crash [Autocoupler/brake set by CV151 max spd]
F4- Air feature disable- F4 to OFF enables pop-off and starts compressor
F5-
F6-
F7- Crossing Gate Airhorn
F8- Mute control, [F8 ON is muted.]
F9- Engine Brake squeal
F10- Crossing gate Airhorn sequence
F11- Sanding cycle
F12- Cab door closing



(B) RDC Sound FX defined CV's: [decoder CV8=8 Factory reset value in sq. brackets]

CV58 Master Volume, 0-15, 0= max, (F8 used for Mute) [9]

CV122 Product TYpe, 12 = Digitrax SFX sound decoder (Read Only Value)
CV123 Hardware Version (Read Only Value)

CV135 Volume when Muted [00]

User configurable SoundCV's:

CV140 PRIME mover vol 0-64 [60]
CV142 Horn volume 0-64 [60]
CV143 Air features volume (popoff, comp) 0-64 [30]
CV145 Misc vols 0-64 [40]
CV148 Compressor Start rate [30]
CV149 COMPRESSOR ON time [20]
CV150 Horn Selector 0=std P5 Horn , 1=Playable volume Horn 2=Alternate Horn [0]
CV152 Author ID Digitrax=0xdd [221]
CV153 Project ID RDC [19]


(C) General Notes


Special thanks for RDC sounds recorded by Paul Knowles.


Note: This RDC prime mover has significant low-frequency components at idle and low throttle settings,
so the speaker enclosures should be as large as possible behind the diaphragm to extend adequate frequency response below
e.g. 300Hz. This will ensure a more "full" sound that does not appear thin or "tinny".

Each engine we have recorded has a distinct 'personality', so a particular locomotive example may sound slightly different
due to unique e.g. tappet, crank-rate shell vibrations and exhaust-stack differences. Horns and bells are often moved between locomotives, and
some roads may change/upgrade prime-movers, or change a normally aspirated engine with turbo-chargers etc.


------[end RDC SDF/DECODER definition]--------------
SoundLoader Software
Using your PR3 programmer and SoundLoader Software, it's quick and easy to download sound project files into your Digitrax FX decoders.
Format Information
With Digitrax Sound FX decoders and downloadable sound project files (.spj), you can download your choice of sound schemes into any Sound FX equipped locomotive. You can use spj's that are available for free, you can modify those schemes or you can create your own!
Sound Decoders
Digitrax offers a wide variety of Sound FX decoders to fit many different locomotives. You'll need to have a Digitrax SFX decoder installed to take advantage of using .spj files.
Click here for Digitrax Sound FX decoders
Submit your Sound Projects
Use our submission form to submit your Sound Projects

Click here to submit your sound project