Norfolk and Western #611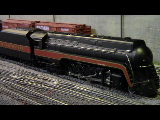 The Norfolk & Western Railway built a fleet of fourteen (road numbers 600 through 613) 4-8-4s that were an excellent balance of strength and speed. They were built by the N&W's own forces in its shops in Roanoke, VA.
In 1941, the first five, (road numbers 600 through 604) were designated Class J and were of a streamlined design and had 70" drivers, 27 x 32 cylinders and a boiler pressure of 275 psi. They weighed 494,000 lbs and had a tractive effort of 73,000 pounds. The Class Js could achieve speeds that exceeded the steam locomotives rule of driver diameter plus 10 and could cruise at speeds well into the 90 mile an hour range.
In 1944, six more, (road numbers 605 through 611), this time designated Class J-1, were built without streamlining because of wartime shortages of materials. They were otherwise identical to the Class Js. After World War II, they were refitted with streamlining and with light weight rods. Number 610 was loaned to the PRR for testing and during tests was able to hold a steady speed of 110 miles per hour.
In 1950, after the big three steam locomotive builders had stopped building steam locomotives, the Norfolk & Western Railway built three more Class J-1s (road numbers 611 through 613). These last three were the last steam passenger locomotives built for an American railroad and were identical to the other eleven. By 1950, all of the Class Js and J-1s had their boiler pressure raised to 300 psi which increased the tractive effort to 80,000 pounds.
During the 1940s and 1950s on the Norfolk & Western, locomotives were kept in top shape in facilities that were modern, clean and well-equipped. The Js could be fully serviced in just about one hour. With this efficiency, this small group of locomotives could handle 80% of the N&W's passenger trains. They operated daily between Cincinnati and Norfolk, pulling such trains as "The Powhatan Arrow", "The Pocahontas" and "The Cavalier".
There is one survivor, number 611, which is now at the Virginia Museum Of Transportation in Roanoke, VA.
Copy Courtesy of SteamLocomotive.com - Copyright © Wes Barris
http://www.steamlocomotive.com/northern/?page=nw
Norfolk and Western #611
Power type: Steam
Builder: Roanoke Shops
Serial number: 388
Build date: May 1950
Configuration: 4-8-4
UIC classification: 2'D2' h2
Gauge: 4 ft. 8 1/2 in (1,435 mm)
Driver diameter: 70 in (1,778 mm)
Length: 109 ft. 2 in (33.27 m)
Height: 16 ft. 2 in (4.93 m)
Axle load: 72,000 lb. (32.7 tonnes) for drivers
Weight on drivers: 288,000 lb. (130.6 tonnes)
Locomotive weight: 494,000 lb. (224.1 tonnes)
Tender weight: 395,250 lb. (179.3 tonnes)
Locomotive & tender combined weight: 872,600 lb. (395.8 tonnes)
Fuel type: Coal
Fuel capacity: 70,000 lb. (31.8 tonnes)
Water capacity: 22,000 US gal (83,000 l; 18,000 imp gal)
25,000 US gal (95,000 l; 21,000 imp gal) in auxiliary tender
Boiler pressure: 300 lbf. /in² (2.07 MPa)
Firegrate area: 107.7 sq. ft. (10.01 m2)
Heating surface tubes and flues: 4,693 sq. ft. (436.0 m2)
Heating surface firebox: 578 sq. ft. (53.7 m2)
Superheater area: 2,177 sq. ft. (202.2 m2)
Cylinders: Two
Cylinder size: 27 in × 32 in (686 mm × 813 mm)
Valve gear: Baker
Valve type: Piston valves
Tractive effort: 80,000 lbf. (355.86 kN)
Factor of adhesion: 3.60
Career: Norfolk and Western Railway
Class: J
Number in class: 12 of 14
Number: 611
Retired: 1959 (revenue), 1994 (excursion)
Restored: 1982
Sound Projects
There is 1 Sound Project for this Locomotive
j611 8 bit project by John McMasters, added on Feb. 26, 2013
This is an attempt to create a project for a locomotive that no longer runs. I saw this engine many times both static (Roanoke) and running excursions (Lafayette and Winston-Salem). All the sounds were found from extensive research into archived videos of the loco.

Also at low speeds a standing Locomotive collects condensed water in its cylinder as trapped steam cools. Since it isn't compressible, this water can blow out a cylinder head when the engine starts. To avoid this ,the engineer first opens valves called cylinder cocks under each end of the cylinders(sometimes in the middle too ). Then when the engine starts, the exhaust steam comes Whoooshing out of the cylinder cocks with the condensate instead of chugging up the stack. Engines doing this spray steam from under their cylinder. The starting steam cock open is controlled by CV147 (about =14) since steam loco has no drier.

Please see project description for full description and list of features.
SoundLoader Software
Using your PR3 programmer and SoundLoader Software, it's quick and easy to download sound project files into your Digitrax FX decoders.
Format Information
With Digitrax Sound FX decoders and downloadable sound project files (.spj), you can download your choice of sound schemes into any Sound FX equipped locomotive. You can use spj's that are available for free, you can modify those schemes or you can create your own!
Sound Decoders
Digitrax offers a wide variety of Sound FX decoders to fit many different locomotives. You'll need to have a Digitrax SFX decoder installed to take advantage of using .spj files.
Click here for Digitrax Sound FX decoders
Submit your Sound Projects
Use our submission form to submit your Sound Projects

Click here to submit your sound project