NKP 779 Berkshire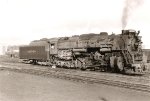 NKP 779 Berkshire
Configuration: 2-8-4
UIC classification: 1'D2'h
Gauge: 4 ft. 8 1/2 in (1,435 mm)
Leading wheel diameter: 33 in (0.838 m)
Driver diameter: 69 in (1.753 m)
Trailing wheel diameter: 43 in (1.092 m)
Length: 100 ft. 8 3/4 in (30.70 m)
Height: 15 ft. 8 in (4.78 m)
Weight on drivers: 264,300 lb. (119.9 t)
Locomotive weight: 440,800 lb. (199.9 t)
Locomotive & tender combined weight: 802,500 lb. (364.0 t)
Fuel type: Coal
Fuel capacity: 44,000 lb. (20.0 t) 22 short tons (20.0 t)
Water capacity: 22,000 US gal (83,000 l; 18,000 imp gal)
Boiler: 89.0625 in (2.26 m) diameter × 42 ft. (12.80 m) length
Boiler pressure: 245 psi (1.69 MPa)
Superheater type: Elesco
Cylinders: Two
Cylinder size: 25 in × 34 in (635 mm × 864 mm)
Top speed: 70 mph (113 km/h)
Tractive effort: 64,135 lbf. (285.3 kN)
Sound Projects
There is 1 Sound Project for this Locomotive
NKP779 8 bit project by John McMasters, added on Feb. 26, 2013
This is an attempt to create a project for a locomotive that no longer exists. The idea is to make sounds that better represent the real NKP Berkshires rather than model the existing restored engines. The bell and whistle and some steam sounds are from the Pere Marquette 1225. Other sounds are from NKP765. Prime mover sound files were collected from various public appearances of NKP765 and Pere Marquette 1225. Many stock sounds were also used. A standing Locomotive collects condensed water in its cylinder as trapped steam cools. Since it isn't Compressible, this water can blow out a cylinder head when the engine starts. To avoid this ,the engineer first opens valves called cylinder cocks under each end of the cylinders(sometimes in the middle too ). Then when the engine starts, the exhaust steam comes Whoooshing out of the cylinder cocks with the condensate instead of chugging up the stack. Engines doing this spray steam from under their cylinder. The starting steam cock open is controlled by CV147 (about =14) since steam loco has no drier. Please see project description for full description and list of features.
SoundLoader Software
Using your PR3 programmer and SoundLoader Software, it's quick and easy to download sound project files into your Digitrax FX decoders.
Format Information
With Digitrax Sound FX decoders and downloadable sound project files (.spj), you can download your choice of sound schemes into any Sound FX equipped locomotive. You can use spj's that are available for free, you can modify those schemes or you can create your own!
Sound Decoders
Digitrax offers a wide variety of Sound FX decoders to fit many different locomotives. You'll need to have a Digitrax SFX decoder installed to take advantage of using .spj files.
Click here for Digitrax Sound FX decoders
Submit your Sound Projects
Use our submission form to submit your Sound Projects

Click here to submit your sound project