NCDOT F59PHI 1755 and 1797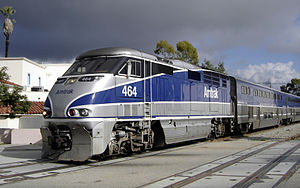 The F59PHI was designed for Amtrak California intercity service and began production in 1994. It is distinguished from the F59PH by its streamlined cab. A total of 83 F59PHIs were built between 1994–2001, primarily for commuter operators.
https://en.wikipedia.org/wiki/EMD_F59PH
Sound Projects
There is 1 Sound Project for this Locomotive
NCDOT F59PHI 1755 and 1797 8 bit project by John McMasters, added on March 26, 2013
This F59PHI project modeled after a local regional railroad NCDOT. It uses an EMD 710-12 cylinder prime mover and the project includes a custom NCDOT horn.
This is a functional tested version of a project using individual sound recordings for each prime mover notch setting. These prime mover sounds can be played in three modes determined by CV155: automatic, semi-automatic and manual notching. In auto mode, the prime mover notch is determined by the current speed setting, and is adjustable using CV132. In semi-auto mode, the same is true but it is possible to "throttle up" to higher notches using F11 and F7, if you want your engine to sound like it is working harder. Manual mode offers full control of the notch setting using F11 and F7, so you can throttle down to idle and turn on dynamic braking while coasting downgrade.
Other features available in this project include:
- Automatic grade crossing horn sequence with bell
- Optional highball and backup horn signals while stopped
- Dynamic brakes at speed, or handbrake while stopped
- Automatic coupler sounds when changing direction at low speeds
- Automatic brake squeal sounds when decelerating to a stop
- Manual brake squeal on F9 and moving
SoundLoader Software
Using your PR3 programmer and SoundLoader Software, it's quick and easy to download sound project files into your Digitrax FX decoders.
Format Information
With Digitrax Sound FX decoders and downloadable sound project files (.spj), you can download your choice of sound schemes into any Sound FX equipped locomotive. You can use spj's that are available for free, you can modify those schemes or you can create your own!
Sound Decoders
Digitrax offers a wide variety of Sound FX decoders to fit many different locomotives. You'll need to have a Digitrax SFX decoder installed to take advantage of using .spj files.
Click here for Digitrax Sound FX decoders
Submit your Sound Projects
Use our submission form to submit your Sound Projects

Click here to submit your sound project