GE FDL7-8 U18b Pickens 9507, 9508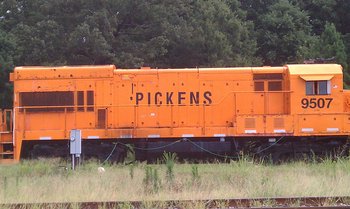 The GE U18B diesel-electric locomotive was introduced by GE Transportation as a branch line roadswitcher in 1973. Easy to spot due to its relatively short length — 54 ft 8 in (16.66 m) — it was the only North American locomotive powered by the 8-cylinder 7FDL engine.
The Seaboard Coast Line Railroad (SCL) bought 105 U18Bs, far more than the second-best U.S. customer, the Maine Central Railroad (MEC), which ordered 10. Most of the SCL and MEC U18Bs rode on refurbished Blomberg trucks, recycled from old EMD locomotives, making the U18B even more visually distinct from other GE locomotives.
Many railfans refer to the GE Universal Series locomotives as "U-Boats." Due to its smaller size, the U18B received the nickname "Baby Boat."
Not many U18Bs still exist, but some short-line railroads, such as the Pickens Railway, still have several U18Bs in everyday service.
GE included information about a B18-7 locomotive (which would have followed the U18B) in its 1978 "Series-7 Road Locomotives" service manual, but none of these updated units were ordered, sold, or built.
https://en.wikipedia.org/wiki/GE_U18B
Sound Projects
There is 1 Sound Project for this Locomotive
U18B 8 bit project by John McMasters, added on Feb. 6, 2013
This is a functional tested version of a project using individual sound recordings for each prime mover notch setting. These prime mover sounds can be played in three modes determined by CV155: automatic, semi-automatic and manual notching. In auto mode, the prime mover notch is determined by the current speed setting, and is adjustable using CV132. In semi-auto mode, the same is true but it is possible to "throttle up" to higher notches using F11 and F7, if you want your engine to sound like it is working harder. Manual mode offers full control of the notch setting using F11 and F7, so you can throttle down to idle and turn on dynamic braking while coasting downgrade.
Other features this project includes:
- Automatic grade crossing horn sequence with bell
- Optional highball and backup horn signals while stopped
- Dynamic brakes at speed, or handbrake while stopped
- Automatic coupler sounds when changing direction at low speeds
- Automatic brake squeal sounds when decelerating to a stop
- Manual brake squeal on F9 and moving
This sound project has been assembled from Digitrax-supplied sound clips as well as new sounds from custom recordings. Thanks are due to Alex Stroshane, Fred Miller, Bob Grosh, Jim Walton and A.J. Ireland for their prior work in developing sound projects. This is the Sound Definition Language (SDL) file for a project that can be used for a typical diesel locomotive with 8 throttle notches. Coding based on previous work by Fred Miller, Bob Grosh and Jim Walton using the SDL format developed by A.J. Ireland and Digitrax. Prime mover sound files were provided by Ted Alan Najzer.
SoundLoader Software
Using your PR3 programmer and SoundLoader Software, it's quick and easy to download sound project files into your Digitrax FX decoders.
Format Information
With Digitrax Sound FX decoders and downloadable sound project files (.spj), you can download your choice of sound schemes into any Sound FX equipped locomotive. You can use spj's that are available for free, you can modify those schemes or you can create your own!
Sound Decoders
Digitrax offers a wide variety of Sound FX decoders to fit many different locomotives. You'll need to have a Digitrax SFX decoder installed to take advantage of using .spj files.
Click here for Digitrax Sound FX decoders
Submit your Sound Projects
Use our submission form to submit your Sound Projects

Click here to submit your sound project