French Thalys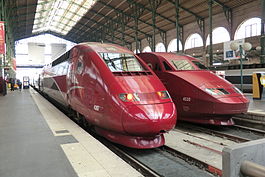 The Thalys PBKA is a high-speed train derived from the French TGV. It operates the Thalys service between Paris, Brussels, Cologne (German: Köln) and Amsterdam, forming the abbreviation PBKA.
Unlike Thalys PBA sets, the PBKA sets were built exclusively for the Thalys service. Their motor cars are technologically similar to those of TGV Duplex sets, but the trains do not feature bi-level carriages. They have eight carriages and are 200 m (656 ft) long, weighing a total of 385 tonnes. They have a capacity of 377 seats.
All of the trains are quadri-current, capable of operating under 25 kV 50 Hz AC (LGVs and a part of the French lignes classiques), 15 kV 16.7 Hz AC (Germany), 3 kV DC (Belgium) and 1.5 kV DC (the Netherlands and the remainder of the French lignes classiques).
Their top speed in service is 300 km/h (186 mph) under 25 kV, with two power cars supplying 8,800 kW. When operating under 15 kV AC or 1,500 V DC, the power output drops to 3,680 kW,[1] insufficient to reach 300 km/h in commercial use. Although their power-to-weight ratio allows a 250 km/h operation under 15 kV AC,[1] further constraints resulted in imposing a limit of 200 km/h on these trains in Germany.[2]
Seventeen trains were ordered: nine by SNCB/NMBS, six by SNCF and two by NS. Deutsche Bahn contributed to financing two of the SNCB sets.
https://en.wikipedia.org/wiki/SNCF_TGV_Thalys_PBKA
Sound Projects
There is 1 Sound Project for this Locomotive
French Thalys 8 bit project by Barry's Bits, added on Nov. 18, 2013

(A) Function Key Usage:

F0- Lights
F1- Bell
F2- Horn [CV150 selects Horn type]
F3- Coupler crash [Autocoupler/brake set by CV151 max spd]
F4- Air features disable - F4 to OFF enables pop-off,drier and starts compressor
F5- Dynamic brakes
F6- Not assigned
F7- Not assigned
F8- Mute control, [F8 ON is muted.]
F9- Engine brake squeal
F10- Grade crossing airhorn sequence
F11- Milepost indicator
SoundLoader Software
Using your PR3 programmer and SoundLoader Software, it's quick and easy to download sound project files into your Digitrax FX decoders.
Format Information
With Digitrax Sound FX decoders and downloadable sound project files (.spj), you can download your choice of sound schemes into any Sound FX equipped locomotive. You can use spj's that are available for free, you can modify those schemes or you can create your own!
Sound Decoders
Digitrax offers a wide variety of Sound FX decoders to fit many different locomotives. You'll need to have a Digitrax SFX decoder installed to take advantage of using .spj files.
Click here for Digitrax Sound FX decoders
Submit your Sound Projects
Use our submission form to submit your Sound Projects

Click here to submit your sound project