French Electric CC 40101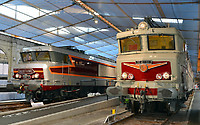 The CC 40101 from the SNCF has been built in 1964 by Alsthom. This class of locomotive was hauling the TEE trains running between Paris Nord and Brussels. The CC 40100 locomotives were able to operate under four different power supplies. The CC 40101 has been withdrawn from active service in 1996. The 1500 Volt CC 6572 has been built in 1975 by Alsthom MTE. This class of locomotive was hauling the Aquitaine TEE trains #1 and 2 running between Paris and Bordeaux. These were at that time, the fastest passenger trains running in Europe. The CC 6572 has been withdrawn from active service in 2006.
Image and Copy Courtesy of RailPictures.Net - Image Copyright © Daniel Simon
http://www.railpictures.net/photo/398406/#remarks

Sound Projects
There is 1 Sound Project for this Locomotive
CC 40101 8 bit project by Barrys Bits, added on Jan. 8, 2013
This project was modeled for this specific electric locomotive, however it has been found to be quite versatile. It has been used for other types of electric locomotive with great success. A little bit of editing can further customize the project to the type of electric you need.
SoundLoader Software
Using your PR3 programmer and SoundLoader Software, it's quick and easy to download sound project files into your Digitrax FX decoders.
Format Information
With Digitrax Sound FX decoders and downloadable sound project files (.spj), you can download your choice of sound schemes into any Sound FX equipped locomotive. You can use spj's that are available for free, you can modify those schemes or you can create your own!
Sound Decoders
Digitrax offers a wide variety of Sound FX decoders to fit many different locomotives. You'll need to have a Digitrax SFX decoder installed to take advantage of using .spj files.
Click here for Digitrax Sound FX decoders
Submit your Sound Projects
Use our submission form to submit your Sound Projects

Click here to submit your sound project