Fairbanks Morse Opposed-Piston Switcher #1860 Scheme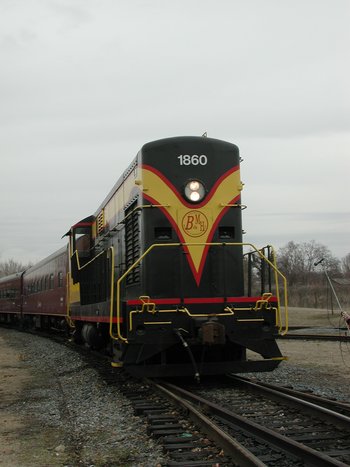 The FM H-12-44 was a yard switcher produced by Fairbanks-Morse from May, 1950–March, 1961. The units featured a 1,200-horsepower (890 kW), six-cylinder opposed piston engine prime mover, and were configured in a B-B wheel arrangement mounted atop a pair of two-axle AAR Type-A switcher trucks, with all axles powered and geared for a top speed of 60 miles per hour (97 km/h).
A total of 303 units were built for American railroads, 30 were manufactured (between August 1951 to June 1956) by the Canadian Locomotive Company for use in Canada, and 1 unit was exported to Mexico. Initially, H-12-44s were visually indistinguishable from their predecessor model, the FM H-10-44. However, beginning in September, 1952 the Raymond Loewy design elements were removed as a cost-saving measure: cab lines were squared-off, the slanted-nose styling was discontinued, and the roof visor was eliminated. The following year, the fairing over the battery box was removed and louvers added to reduce the possibility of battery explosions. None of the units were produced between May and October 1956, after which time the carbodies were shortened by some three feet and outfitted with a deeper side skirt.
Sixteen intact examples of the H-12-44 are known to survive today, all of which are owned by railroad museums or historical societies.
One H-12-44TS, Santa Fe 543, now resides at the Illinois Railway Museum.
Former US Army unit #1860, worked at Sunny Point Military Ocean Terminal. It later went to Beaufort & Morehead Railroad in North Carolina as #1860, based at the Morehead City State Ports. The North Carolina Transportation Museum acquired the locomotive in 2004 after disposition from the State Ports.
https://en.wikipedia.org/wiki/FM_H-12-44

Sound Projects
There is 1 Sound Project for this Locomotive
FairbanksMorse_OP 8 bit project by Digitrax Inc., added on July 14, 2011
Digitrax Fairbanks Morse Opposed-Piston Switcher #1860 Scheme Copyright (c) Digitrax Inc. July 8th 2007
Couresy of North Carolina Transportation Museum Spencer Shops
Digitrax Fairbanks Morse Opposed-Piston Switcher #1860 Scheme Copyright (c) Digitrax Inc. July 8th 2007
(C) General Notes
This sound recording courtesy of Donny, Chief engineer at the Spencer, North Carolina State Transportation Museum. Unit #1860 is an Opposed-Piston Fairbanks Morse engine, Horn s from a Ferry boat (marine) unit.
All sounds recorded by AJ Ireland off #1860 at Spencer in 2006.
For CV155=01 ["Semi_automatic Notching"], the Prime mover lowest Notch setting is set by the throttle speed setting. F6 (ON) can increase the Notch and F7 (ON) will decrease the Prime mover to the minimum notch set by current throttle setting.
If you leave F5 on, you can wind the engine handbrake forever!!
SoundLoader Software
Using your PR3 programmer and SoundLoader Software, it's quick and easy to download sound project files into your Digitrax FX decoders.
Format Information
With Digitrax Sound FX decoders and downloadable sound project files (.spj), you can download your choice of sound schemes into any Sound FX equipped locomotive. You can use spj's that are available for free, you can modify those schemes or you can create your own!
Sound Decoders
Digitrax offers a wide variety of Sound FX decoders to fit many different locomotives. You'll need to have a Digitrax SFX decoder installed to take advantage of using .spj files.
Click here for Digitrax Sound FX decoders
Submit your Sound Projects
Use our submission form to submit your Sound Projects

Click here to submit your sound project