EMD SD70ace, Western Pacific #1983 Diesel Scheme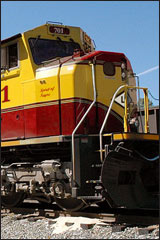 The SD70ACe is the successor to the older SD70MAC. Built from 2004 to 2014 in the United States, the SD70ACe was originally designed to comply with EPA Tier 2 locomotive emissions regulations. Beginning in 2012, newly built SD70ACe's were EPA Tier 3 compliant.[1] SD70ACes are equipped with EMD's 16-710-G3C-T2 prime mover, rated at 4,300 horsepower (3,200 kW); later Tier 3 models are rated at 4,500 horsepower (3,400 kW).[8] They are rated at 157,000 lbf (700 kN) continuous tractive effort (191,000 lbf (850 kN) starting). Braking effort is rated at 106,000 lbf (470 kN).[8]
Although mechanically similar to earlier SD70 units, the SD70ACe rides on a new underframe and uses mostly new sheet metal above the frame. Electrical cables and air lines have been routed beneath the walkways on opposite sides, allowing easier access for maintenance. Continuing the designs of the SD80 and SD90 series, the radiator on the locomotive is nearly as wide as the cab, the center hood section is a step down below the roofline, and the dynamic brakes have been moved to the rear of the hood. The SD70ACe uses the cab design of late-model SD90MAC-H units, which uses rectangular window glass and is externally different from the two cab variations used on earlier SD70M and SD70MAC units. In 2008, EMD standardized the isolated cab on subsequent SD70ACe's after non-isolated cab units were restricted from leading on BNSF Railway due to excessive cab vibration.
Purchasers included ArcelorMittal, BNSF Railway, Canadian National Railway, CSX Transportation, Ferromex, Kansas City Southern Railway, Montana Rail Link, Norfolk Southern Railway, CVG Ferrominera Orinoco, MRS Brazil, Union Pacific Railroad, Quebec North Shore and Labrador Railway, BHP Billiton, and shortline Arkansas and Missouri Railroad.
Union Pacific 1983 is an EMD SD70ACe locomotive owned by Union Pacific Railroad. It is one of UP's locomotives painted in the scheme of a predecessor railroad. UP 1983 is painted in Western Pacific Railroad colors. The locomotive was unveiled together with number 1982 (painted in honor of Missouri Pacific Railroad) in a private ceremony on July 30, 2005, in Omaha, Nebraska, after which it entered regular revenue service.
https://en.wikipedia.org/wiki/EMD_SD70_series
The Western Pacific was acquired in 1983 by Union Pacific Corporation, which in 1996 would purchase its long-time rival, the Southern Pacific Railroad. In July 2005 Union Pacific unveiled a brand new EMD SD70ACe locomotive, Union Pacific 1983, painted as an homage to the Western Pacific.
https://en.wikipedia.org/wiki/Western_Pacific_Railroad

Sound Projects
There is 1 Sound Project for this Locomotive
sd70ace 8 bit project by Digitrax Inc., added on July 14, 2011
Digitrax EMD SD70ace, Western Pacific type Sound scheme. Copright (c) Digitrax Inc. July 8th 2007
Digitrax EMD SD70ace, Western Pacific type Sound scheme. Copright (c) Digitrax Inc. July 8th 2007
(C) General Notes
This sound recording courtesy of UP Steam Heritage program (UP3985 had WP#1983 as 'helper' and recorded by AJ Ireland Sept 2005) and Brian Marsh, Overland Models for supplemental recordings at Council Bluffs.
Note: This SD70ace prime mover has significant low-frequency components at idle and low notch settings, so the speaker enclosures should be as large as possible behind the diaphragm to extend adequate frequency response below e.g. 300Hz. This will ensure a more "full" sound that does not appear thin or "tinny".
Each engine recorded has a distinct 'personality', so a particular locomotive example may sound slightly different due to unique e.g. tappet, crank-rate shell vibrations and exhaust-stack differences. Horns and bells are often moved between locomotives, and some roads may change/upgrade prime-movers, or change a normally aspirated engine with turbo-chargers etc.
Recording microphone aspect and location reverberation also significantly affect the final sound scheme.
For CV155=01 ["Semi_automatic Notching"], the Prime mover lowest Notch setting is set by the throttle speed setting. F6 (ON) can increase the Notch and F7 (ON) will decrease the Prime mover to the minimum notch set by current throttle setting.
SoundLoader Software
Using your PR3 programmer and SoundLoader Software, it's quick and easy to download sound project files into your Digitrax FX decoders.
Format Information
With Digitrax Sound FX decoders and downloadable sound project files (.spj), you can download your choice of sound schemes into any Sound FX equipped locomotive. You can use spj's that are available for free, you can modify those schemes or you can create your own!
Sound Decoders
Digitrax offers a wide variety of Sound FX decoders to fit many different locomotives. You'll need to have a Digitrax SFX decoder installed to take advantage of using .spj files.
Click here for Digitrax Sound FX decoders
Submit your Sound Projects
Use our submission form to submit your Sound Projects

Click here to submit your sound project