EMD SD38-2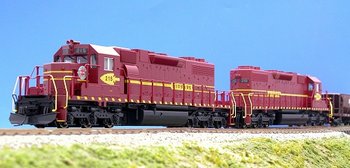 The EMD SD38-2 is a six-axle diesel locomotive built by General Motors Electro-Motive Division (EMD) from 1972 to 1979. EMD built 83 of these medium road-switchers, which were used in both yard and mainline roles. Part of the EMD Dash 2 line, the SD38-2 was an upgraded SD38 with modular electronic control systems, HT-C trucks, and many other detail improvements. The locomotive's power was provided by an EMD 16-645E 16-cylinder engine, which could generate 2,000 horsepower (1,500 kilowatts). These units were constructed with either 3,200 or 4,000 US gal (12,000 or 15,000 L; 2,700 or 3,300 imp gal) fuel tanks and were available with or without dynamic brakes. It shared the same 64-foot-8-inch (19.71 m) frame as the SD40-2 and SD45-2, which gives it a length over couplers of 68 feet 10 inches (20.98 m).
https://en.wikipedia.org/wiki/EMD_SD38-2
Sound Projects
There is 1 Sound Project for this Locomotive
SoundLoader Software
Using your PR3 programmer and SoundLoader Software, it's quick and easy to download sound project files into your Digitrax FX decoders.
Format Information
With Digitrax Sound FX decoders and downloadable sound project files (.spj), you can download your choice of sound schemes into any Sound FX equipped locomotive. You can use spj's that are available for free, you can modify those schemes or you can create your own!
Sound Decoders
Digitrax offers a wide variety of Sound FX decoders to fit many different locomotives. You'll need to have a Digitrax SFX decoder installed to take advantage of using .spj files.
Click here for Digitrax Sound FX decoders
Submit your Sound Projects
Use our submission form to submit your Sound Projects

Click here to submit your sound project