EMD 567C-12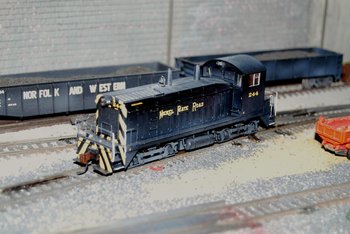 The EMD 567 is a line of large medium-speed diesel engines built by General Motors' Electro-Motive Division. This engine, which succeeded Winton's 201A, was used in EMD's locomotives from 1938 until its replacement in 1966 by the EMD 645. It has a bore of 8 1⁄2 in (216 mm), a stroke of 10 in (254 mm) and a displacement of 567 cu in (9.29 L) per cylinder. Like the 201A, the EMD 645 and the EMD 710, the EMD 567 is a two-stroke cycle engine. It is a V engine with an angle of 45° between cylinder banks (the 201A was 60° between cylinder banks; 45° later proved to be significant when EMD subsequently adapted the road switcher concept for most of its locomotives, and which required the narrower (albeit taller) engine which 45° provides). The 710, 645, and 567 are the only two-stroke engines commonly used today in locomotives.
Visually, the 567C may be distinguished from earlier models by the presence of round (instead of square) handholes.
https://en.wikipedia.org/wiki/EMD_567
Sound Projects
There is 1 Sound Project for this Locomotive
SoundLoader Software
Using your PR3 programmer and SoundLoader Software, it's quick and easy to download sound project files into your Digitrax FX decoders.
Format Information
With Digitrax Sound FX decoders and downloadable sound project files (.spj), you can download your choice of sound schemes into any Sound FX equipped locomotive. You can use spj's that are available for free, you can modify those schemes or you can create your own!
Sound Decoders
Digitrax offers a wide variety of Sound FX decoders to fit many different locomotives. You'll need to have a Digitrax SFX decoder installed to take advantage of using .spj files.
Click here for Digitrax Sound FX decoders
Submit your Sound Projects
Use our submission form to submit your Sound Projects

Click here to submit your sound project