DMU Class 108 #108955 Diesel Scheme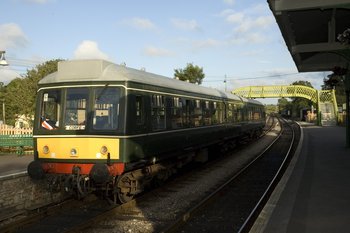 The British Rail Class 108 diesel multiple units were built by BR Derby from 1958 to 1961, with a final production quantity of 333 vehicles.
Class 108 DMU, nos. 56208 and 51935, at Bewdley on 15 October 2004. This unit is preserved on the Severn Valley Railway.
These units stayed in regular service until 1990, when they began to be withdrawn from traffic. They were replaced on regional services by the new "Sprinter" derivative units, or by "Turbo" units on services around London. The final units lasted in traffic until October 1993, although many saw further use in departmental service, as sandite or route-learner units. Good condition on withdrawal and lack of asbestos has ensured that many of this class are now used on preserved railway lines.
https://en.wikipedia.org/wiki/British_Rail_Class_108
Sound Projects
There is 1 Sound Project for this Locomotive
br_108 8 bit project by Digitrax Inc., added on July 14, 2011
DigitraxDMU Class 108 #108955 Diesel Sound scheme. Copright (c) Digitrax Inc. July 8th 2007
This sound recording courtesy of Swanage Heritage Railway, Dorset,UK, and very helpful Driver (Engineer) Nick Lanham. Recorded by AJ Ireland, June 2007.
SoundLoader Software
Using your PR3 programmer and SoundLoader Software, it's quick and easy to download sound project files into your Digitrax FX decoders.
Format Information
With Digitrax Sound FX decoders and downloadable sound project files (.spj), you can download your choice of sound schemes into any Sound FX equipped locomotive. You can use spj's that are available for free, you can modify those schemes or you can create your own!
Sound Decoders
Digitrax offers a wide variety of Sound FX decoders to fit many different locomotives. You'll need to have a Digitrax SFX decoder installed to take advantage of using .spj files.
Click here for Digitrax Sound FX decoders
Submit your Sound Projects
Use our submission form to submit your Sound Projects

Click here to submit your sound project