C&O 2746 Lima Berkshire 2-8-4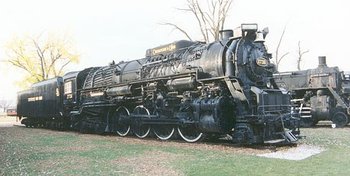 The Chesapeake & Ohio Railroad began with the merger of the Virginia Central and the Covington & Ohio Railroads. It later acquired the Chicago, Cincinnati & Louisville Railroad, the Pere Marquette and the B&O. By 1987 when it was taken over by CSX it also had incorporated the Western Maryland Railroad.
During World War II, the C&O turned to the 2-8-4 wheel arrangement to handle the fast freight schedule demanded by the war-time needs. The C & O had watched the development of the 2-8-4 on the Nickel Plate Road and the Pere Marquette through the "Advisory Mechanical Committee" which was common to the four railroads controlled by the Van Sweringens. It based its 2-8-4 design on the NKP and Pere Marquette "Berkshires". However it chose to name them "Kanawhas" after the Kanawha River, which paralleled its main line.
Between 1943 and 1947, the C & O purchased ninety, Class K-4, 2-8-4 "Kanawhas", twenty from the Lima Locomotive Works and seventy from the American Locomotive Company. These locomotives were numbered 2700 through 2789. All of these locomotives had 69" diameter drivers, 26" x 34" cylinders, a 245 psi boiler pressure, they exerted 69,350 pounds of tractive effort and each weighed about 292,500 pounds.
By mid 1952, the C & O had received enough diesels that it began to retire even the "Kanawhas", which still had service time, and by 1957 all were retired. All but the thirteen that were donated to various cities were scrapped by May 1961.
The City of Buffalo, NY received number 2701 and placed it on display near the waterfront where vandals wrecked it and it was scrapped. There are twelve surviving C&O 2-8-4 "Kanawha" type locomotives.
Image and Copy Courtesy of SteamLocomotive.com - Image Copyright © Wes Barris
http://www.steamlocomotive.com/berkshire/?page=co

Sound Projects
There is 1 Sound Project for this Locomotive
SoundLoader Software
Using your PR3 programmer and SoundLoader Software, it's quick and easy to download sound project files into your Digitrax FX decoders.
Format Information
With Digitrax Sound FX decoders and downloadable sound project files (.spj), you can download your choice of sound schemes into any Sound FX equipped locomotive. You can use spj's that are available for free, you can modify those schemes or you can create your own!
Sound Decoders
Digitrax offers a wide variety of Sound FX decoders to fit many different locomotives. You'll need to have a Digitrax SFX decoder installed to take advantage of using .spj files.
Click here for Digitrax Sound FX decoders
Submit your Sound Projects
Use our submission form to submit your Sound Projects

Click here to submit your sound project