Canadian National K5a 4-6-4 Type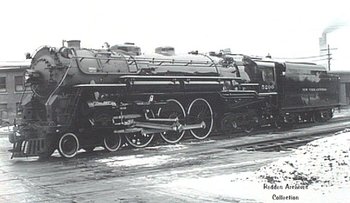 The Canadian National Railways purchased only five Hudsons (road numbers 5700 through 5704) and designated them Class K-5a. These 4-6-4s were built by the Montreal Locomotive Works (which was part of the American Locomotive Company) and were used on fast passenger trains on the Toronto to Montreal corridor. Over all, the Hudsons were not well received by the CNR and it passed on them in favor of the 4-8-4 Northerns.
Image and Copy Courtesy of SteamLocomotive.com - Image Copyright © Wes Barris
http://www.steamlocomotive.com/locobase.php?country=Canada&wheel=4-6-4&page=cnr
http://www.steamlocomotive.com/hudson/
Sound Projects
There is 1 Sound Project for this Locomotive
SoundLoader Software
Using your PR3 programmer and SoundLoader Software, it's quick and easy to download sound project files into your Digitrax FX decoders.
Format Information
With Digitrax Sound FX decoders and downloadable sound project files (.spj), you can download your choice of sound schemes into any Sound FX equipped locomotive. You can use spj's that are available for free, you can modify those schemes or you can create your own!
Sound Decoders
Digitrax offers a wide variety of Sound FX decoders to fit many different locomotives. You'll need to have a Digitrax SFX decoder installed to take advantage of using .spj files.
Click here for Digitrax Sound FX decoders
Submit your Sound Projects
Use our submission form to submit your Sound Projects

Click here to submit your sound project