BR Class 411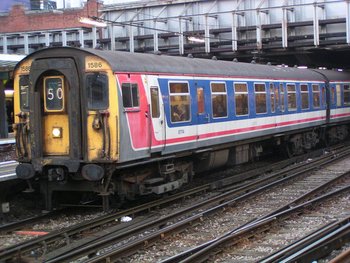 The British Rail Class 411 (or 4 Cep) electrical multiple units were built at Eastleigh works from 1956-63 for the newly electrified main lines in Kent. These units were based on the earlier Southern Railway 4 Cor design, built in 1937. Variants of the class 411 design included the class 410 and class 412 4 Bep units, which contained a buffet car in place of a standard trailer. They were later used on services in Sussex and Hampshire; following the privatisation of British Rail in 1995, the units were used by the Connex South Central, Connex South Eastern and South West Trains franchises. They were replaced by Juniper and Electrostar units. The fleet's lifespan was 49 years. These units are the longest-lived BR Mark 1 EMUs.
https://en.wikipedia.org/wiki/British_Rail_Class_411
Sound Projects
There is 1 Sound Project for this Locomotive
BR class 411 8 bit project by Barrys Bits, added on April 24, 2013
This sound project has been amplified in an attempt to better suit N gauge users. It is recommended that the Master volume be set to suit the individual user. This project is based off a BR Class 411 3rd rail Electric Multiple Units. This loco type was originally used around London and the southwest areas.
SoundLoader Software
Using your PR3 programmer and SoundLoader Software, it's quick and easy to download sound project files into your Digitrax FX decoders.
Format Information
With Digitrax Sound FX decoders and downloadable sound project files (.spj), you can download your choice of sound schemes into any Sound FX equipped locomotive. You can use spj's that are available for free, you can modify those schemes or you can create your own!
Sound Decoders
Digitrax offers a wide variety of Sound FX decoders to fit many different locomotives. You'll need to have a Digitrax SFX decoder installed to take advantage of using .spj files.
Click here for Digitrax Sound FX decoders
Submit your Sound Projects
Use our submission form to submit your Sound Projects

Click here to submit your sound project