Atchison, Topeka & SanteFe 3776 4-8-4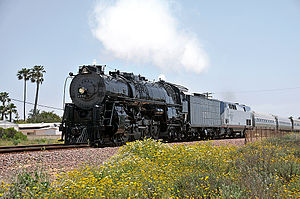 Under the Whyte notation for the classification of steam locomotives, 4-8-4 represents the wheel arrangement of four leading wheels on two axles, eight powered and coupled driving wheels on four axles and four trailing wheels on two axles. The type was first used by the Northern Pacific Railway and is consequently most commonly known as a Northern.
https://en.wikipedia.org/wiki/4-8-4
The Atchison, Topeka & Santa Fe bought a total of 65 Northerns, in four batches, all from the Baldwin Locomotive Works.
The first group of 14 were delivered in 1927 (road number 3751), 1928 (road numbers 3752 through 3760) and 1929 (road numbers 3761 through 3764). These locomotives burned coal and had 73" drivers. They were later rebuilt by the AT&SF to have 80" drivers and were converted to oil burners. The first was rebuilt in 1938 and the last in 1941. This group was known as Class 3751.
The AT&SF used its 4-8-4s for passenger service. Since its main line stretching over 2200 miles (Chicago to California), the AT&SF had a real need for excellent motive power.
Convinced that the Northerns could handle its needs, AT&SF ordered 11 more in 1938 with 80" drivers (known as Class 3765 and included road numbers 3765 through 3775) with another 10 ordered in 1941 (Class 3776, including road numbers 3776 through 3785)
The last group of 30 were built in 1943 and 1944. Wartime shortages of material resulted in ordinary metals being used for their construction. As a result, they were the heaviest Northerns ever built. They out weighed their nearest rivals by over 2000 pounds. This group was known as Class 2900 and included road numbers 2900 through 2929.
There are nine surviving AT&SF Northerns including one (the very first, number 3751) which is operational and owned by the SBRHS. The other eight are: 3759 in Kingman, AZ; 3768 in Wichita, KS; 2903 in Union, Il; 2912 in Pueblo, CO; 2913 in Madison, IA; 2921 in Modesto, CA; 2925 in Sacramento, CA and 2926 in Albuquerque, NM.
Image and Copy Courtesy of SteamLocomotive.com - Image Copyright © Wes Barris
http://www.steamlocomotive.com/northern/?page=atsf
Sound Projects
There is 1 Sound Project for this Locomotive
SoundLoader Software
Using your PR3 programmer and SoundLoader Software, it's quick and easy to download sound project files into your Digitrax FX decoders.
Format Information
With Digitrax Sound FX decoders and downloadable sound project files (.spj), you can download your choice of sound schemes into any Sound FX equipped locomotive. You can use spj's that are available for free, you can modify those schemes or you can create your own!
Sound Decoders
Digitrax offers a wide variety of Sound FX decoders to fit many different locomotives. You'll need to have a Digitrax SFX decoder installed to take advantage of using .spj files.
Click here for Digitrax Sound FX decoders
Submit your Sound Projects
Use our submission form to submit your Sound Projects

Click here to submit your sound project