DT200

Command Station & Throttle This product has been replaced by the Super Walkaround/IR Throttle (DT400) and is no longer available. Click here to view the DT400.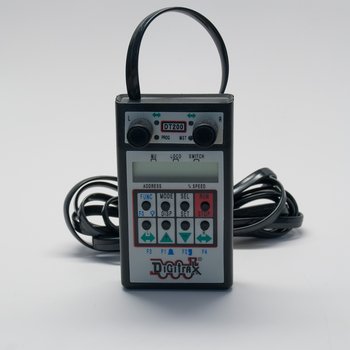 DT200 is a throttle and command station that was shipped with Big Boy Starter Sets.

DT200 was discontinued in 1998.

As of 11/28/2005 is is unrepairable due to unavailability of repair parts.
DT200 Features:
Combination Command Station/Throttle
LocoNet Compatible
Control up to 127 locos
128 speed step operation
LCD display and LED indicators show throttle status at a glance
Use Knobs or Buttons to control speed and select locos
Encoder Knobs for fine speed control
Universal consisting
Control functions F0-F4
Control up to 127 switch addresses
Specifications
Replaced by

DT400 Series Throttles
Product Support
Supporting Documentation
Tech Support Depot
Bundled
This product is also included as part of the following set: