DT100R

Advanced Radio Equipped Throttle This product has been replaced by the Super Walkaround/IR Throttle (DT400) and is no longer available. Click here to view the DT400.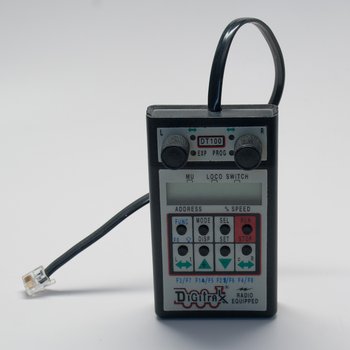 First Digitrax Radio Equipped Advanced Throttle, Introduced in 1998 and Discontinued in 2000.

Because of lack of parts this product is no longer repairable.
DT100 Features:
Works as an advanced throttle on Loconet
Easy to read LCD screed
Two throttle knobs
Knobs are Click encoders
Supports 4 digit addressing
Function control F0-F8
Displays switch position and supports position feedback
Access to 3 service mode programming methods and operations mode programming
Fast clock
Edit and create Routes
Customizable user throttle preferences
Specifications
Replaced by

DT400 Series Throttle
Product Support
Supporting Documentation
Tech Support Depot
Bundled
This product is also included as part of the following sets: