DH140P

1 Amp Decoder With DCC Medium Plug on Long Harness This product is retired, and is no longer available.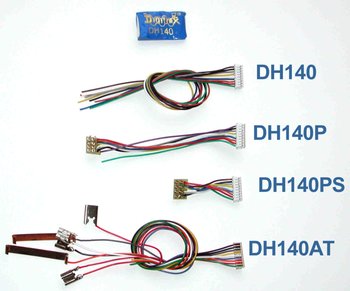 1.0 Amp (1.5 Amp Peak) Mobile DCC Decoder
Easy connect decoder wire harness with DCC Medium Plug
Supports Both Short (127) & Long (10,000) Address Modes
User Programmable Address, Acceleration, Deceleration,
Start-voltage & Mid-point voltage and more
Programmable from DCC compatible equipment without opening the loco
Smooth conversion to analog operation with functions operational
4 User Configurable, Independent Function Leads Rated at 200ma
Use These as Regular Function Leads or Generate Special Lighting Effects
Choose from Mars, Gyralite, Single or Double Strobe, Ditch Lights and more
Smooth locomotive speed control with user selectable
14, 28, or 128 forward & reverse speed step capabilities
User loadable speed tables for customized speed control
with 128 speed step resolution
Supports Basic, Advanced & UniVersal Consisting
User configurable loco direction of travel, you decide
which way is forward without rewiring the motor
Run AC motors (like Marklin 3 pole AC motors) on DCC with split field AC drive
Automatic thermal overload shutdown & improved motor short circuit protection
Compatible with the DCC "Standard"
Complies with FCC Part 15, class B RFI requirements
Specifications
Features

Series 2 (read more)

Digitrax Decoder Series Numbers

Over the years as technology advanced, Digitrax has added more and more features to our mobile decoders. Also, over time, the industry standards and uses of come CVs have changed. Each of our decoder web pages includes a link to a specification sheet for that particular decoder so that you will know which CVs are used for which features in that particular model.

Digitrax uses series numbers to let customers know which feature set is part of a particular decoder.

The fifth character of each mobile + function decoder part number is the Digitrax series designator. For sound + motor + function decoders we typically use the sixth character as the series designator. There are variations in a few part numbers.

---

Series 6


Compatible with Digitrax PX series Power Xtenders to keep locos and sound running in the presence of dirty/poor track work.
FX3 outputs optimized for both LED and bulb applications.
FX3 outputs have configurable pulse available on all outputs.
Improved Scaleable Speed Stabilization (BEMF).

SoundFX Series 6 Features

Sound decoders available with either 8 bit standard or 16 bit premium sound.
Sound decoders configured for 8 Ohm speakers.
Allows for longer sound fragments.
Available in either standard 3 or premium 4 voice versions.
Auto CV configuration by sound projects
Scaleable Speed Stabilization (BEMF) optimized for sound operation.

---

Series 5

Sound Bug Compatible: Series 5 Digitrax Decoders add the ability to add sound to regular mobile decoders with Sound Bug. Some Series 5 decoders have sockets for simply plugging in the Sound Bug while others require soldering to wire the Sound Bug to the decoder.

---

Series 4

First generation SoundFX decoders

Most are mobile, sound and function decoders, some are sound and function only decoders.

---

Series 3

Series 3 decoders with 6 functions have FX3 function outputs

Torque compensation

SuperSonic motor drive for quiet operation (silent operation)

Support for all DCC programming methods as of the time of release

Operations mode read back capability for CV read back on the main line

Scaleable Speed Stabilization (Adjustable Back EMF)

One Step decoder Factory CV reset (CV08=8 or CV8=9 to preserve loadable speed tables)

Motor Isolation Protection

Transponding

White or Golden Yellow LEDs on decoders that come equipped with LEDs

Series 3 decoders with less than 6 functions have a modified set of features

---

Series 3 Economy

Digitrax Decoders have all Series 3 features EXCEPT Scaleable Speed Stabilization (BEMF)

---

Series 2


FX function outputs

Scaleable Speed Stabilization (Back EMF)

Transponding

---

Series 1

Digitrax decoders have standard or configurable strobe function outputs.
Product Support
Supporting Documentation
Tech Support Depot