DN166I0

1.5 Amp Decoder for Intermountain N scale SD40T-2 / SD45T-2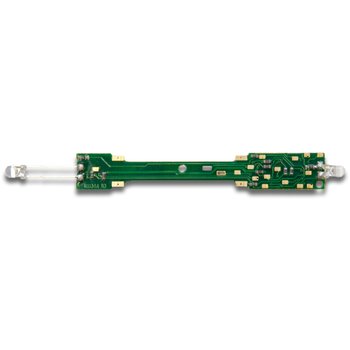 Fits Intermountain N scale SD40T-2 / SD45T-2
3.5" x .367" x .135" w/ LED
88.9mm x 9.32mm x 3.42 mm
▪FX3 Function outputs for prototypical lighting effects and on/off control:
Constant Brightness Lighting with directional or independent control.
Realistic Effects like Ditch lights, Mars lights, strobes, and many more
Configurable Pulse Function available on all function outputs.
Optimized selectable LED or incandescent lamp operation.
FX3 & Standard Function Qualifiers operate functions based on direction,
F0 on or off, direction and F0, and whether loco is moving.
Configurable FX3 Pulse Function available on all function outputs.
Function Remapping for custom function setup.
Master Light Switch turns off all lights & functions with one keystroke.
Advanced Consist Function Controls

▪Digitrax LocoMotion® System-Your locomotives look like the real thing.
The Digitrax LocoMotion System makes them run like the real thing, too!
Torque Compensation for smooth as silk silent operation.
128 Speed Step operation (14 or 28 steps can also be used).
Momentum with acceleration and deceleration.
Normal Direction of Travel is user selectable.
Switching Speed feature for easier and faster access to yard speeds.
Simple 3 Step Speed Tables for custom control.
28 Step Speed Tables with 256 level resolution for precise control.
Scaleable Speed Stabilization (Back EMF)

▪Program CVs using any Digitrax Compatible Control system without having to buy any extra equipment.
▪Digitrax Easy Connect 9 Pin Harness
▪Series 6 Decoder Features.
▪2 Digit and 4 Digit Addressing.
▪Basic, Advanced & UniVersal Consisting.
▪SuperSonic motor drive for silent operation.
▪Direct mode programming.
▪Decoder Reset CV with or without speed table reset.
▪Transponder Equipped ready for transponding on your Layout.
▪Automatic Analog Mode Conversion when running on DC layout.
▪Motor Isolation Protection helps prevent damage to your decoder.
▪Decoder Lock for individual programming of multiple decoders in one loco.
▪DCC Compatible.
▪FCC Part 15, Class B RFI compliant.
▪Digitrax "No Worries" Warranty.
Product Support
Supporting Documentation
Tech Support Depot