DN146IP

1 Amp N / HO Scale Integrated DCC Medium Plug Mobile Decoder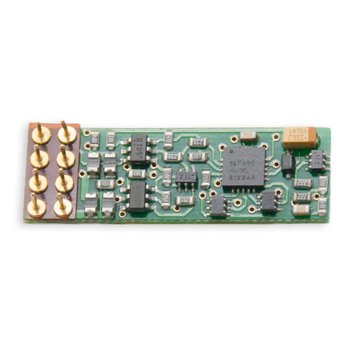 Fits Many DCC-Ready N and HO Scale Locomotives
Size: 1.158" x .386" x .115"
29.43mm x 9.81mm x 2.98mm

N Scale
1.0 Amp/1.5 Amps Peak
FX3 Function outputs for prototypical lighting effects and on/off control:
Constant Brightness Lighting with directional or independent control.
Optimized selectable LED or incandescent lamp operation
Realistic Effects like Ditch lights, Mars lights, strobes, and many more
Configurable Pulse Function available on all function outputs.
FX3 & Standard Function Qualifiers operate functions based on direction,
F0 on or off, direction and F0, and whether loco is moving.
Function Mapping for custom function setup.
Master Light Switch turns off all lights & functions with one keystroke.
Advanced Consist Function Controls.
Digitrax LocoMotion® System-Your locomotives look like the real thing.
The Digitrax LocoMotion System makes them run like the real thing, too!
Scaleable Speed Stabilization (Back EMF) with simple setup & 256 level resolution.
Torque Compensation.
128 Speed Step operation (14 or 28 steps can also be used).
Momentum with acceleration and deceleration.
Normal Direction of Travel is user selectable.
Switching Speed feature for easier and faster access to yard speeds.
3 Step Speed Tables set start, mid and max voltage for custom control.
28 Step Speed Tables with 256 level resolution for precise control.
Program CVs using any Digitrax Compatible Control system without havingto buy any extra equipment.
Integrated DCC Medium Plug.
2 Digit and 4 Digit Addressing.
Basic, Advanced & UniVersal Consisting.
SuperSonic motor drive for silent operation.
Direct mode programming.
Decoder Reset CV with or without speed table reset.
Transponder Equipped ready for transponding on your Layout.
Motor Isolation Protection helps prevent damage to your decoder.
Automatic Analog Mode Conversion when running on DC layout.
Decoder Lock for individual programming of multiple decoders in one loco.
Digitrax "No Worries" Warranty.
Specifications
Current Rating-Motor

1.0 Amp/1.5 Amps Peak

Size

1.158" x .386" x .115" (29.43mm x 9.81mm x 2.98mm)

Installation

Integrated Plug (read more)

The plug is part of the decoder

Function Outputs

4 (read more)

4 function decoders support F0 Forward and F0 Reverse, F1 & F2. This allows for reversing headlights and two separate functions OR 4 separate functions if reversing headlights is not used.

Most Board Replacement decoders have LEDs for forward and revese lights wired to F0 Forward and F0 Reverse. They have solder pads for additional functions that must be wired by the end user.

How functions are numbered:

F0 (FWD) White

F0 (REV) Yellow

The Blue wire is Lamp Common to allow for continuous lamp operation.

F1 Green

F2 Violet

F3 Brown

F4 White with Yellow Stripe

F5 White with Green Stripe

F6 White with Blue Stripe

F7

F8

F9

and so one are each counted as one function. This is an industry wide convention.

Features

Series 6 (read more)

Digitrax Decoder Series Numbers

Over the years as technology advanced, Digitrax has added more and more features to our mobile decoders. Also, over time, the industry standards and uses of come CVs have changed. Each of our decoder web pages includes a link to a specification sheet for that particular decoder so that you will know which CVs are used for which features in that particular model.

Digitrax uses series numbers to let customers know which feature set is part of a particular decoder.

The fifth character of each mobile + function decoder part number is the Digitrax series designator. For sound + motor + function decoders we typically use the sixth character as the series designator. There are variations in a few part numbers.

---

Series 6
Compatible with Digitrax PX series Power Xtenders to keep locos and sound running in the presence of dirty/poor track work.*
FX3 outputs optimized for both LED and bulb applications.
FX3 outputs have configurable pulse available on all outputs.
Improved Scaleable Speed Stabilization (Back EMF).

Premium Series 6 Decoders have Scaleable Speed Stabilization (Back EMF) and usually have more than 2 available function leads.

Economy Series 6 Decoders do not have Scaleable Speed Stabilization (Back EMF) and usually have only 2 available function leads.

SoundFX Series 6 Features
Sound decoders available with either 8 bit standard or 16 bit premium sound.
Sound decoders configured for 8 Ohm speakers.
Allows for longer sound fragments.
Available in either standard 3 or premium 4 voice versions.
Auto CV configuration by sound projects
Scaleable Speed Stabilization (BEMF) optimized for sound operation.

*Some very small/specialized Series 6 decoders do not have connections for PX modules due to space constraints.

---

Series 5

Sound Bug Compatible: Series 5 Digitrax Decoders add the ability to add sound to regular mobile decoders with Sound Bug. Some Series 5 decoders have sockets for simply plugging in the Sound Bug while others require soldering to wire the Sound Bug to the decoder.

---

Series 4

First generation SoundFX decoders

Most are mobile, sound and function decoders, some are sound and function only decoders.

---

Series 3

Series 3 decoders with 6 functions have FX3 function outputs

Torque compensation

SuperSonic motor drive for quiet operation (silent operation)

Support for all DCC programming methods as of the time of release

Operations mode read back capability for CV read back on the main line

Scaleable Speed Stabilization (Adjustable Back EMF)

One Step decoder Factory CV reset (CV08=8 or CV8=9 to preserve loadable speed tables)

Motor Isolation Protection

Transponding

White or Golden Yellow LEDs on decoders that come equipped with LEDs

Series 3 decoders with less than 6 functions have a modified set of features

---

Series 3 Economy

Digitrax Decoders have all Series 3 features EXCEPT Scaleable Speed Stabilization (BEMF)

---

Series 2


FX function outputs

Scaleable Speed Stabilization (Back EMF)

Transponding

---

Series 1

Digitrax decoders have standard or configurable strobe function outputs.

Current Rating-Functions

0.5 Amps for all functions

Original Release Date

2014-03-14

Warranty

No Worries Warranty (read more)

Digitrax gives a one year "No Worries" Warranty against manufacturing defects and accidental customer damage

on all Digitrax command stations, boosters, throttles, decoders, power supplies and layout control devices.

That's it! A simple, straightforward warranty with no tricky language!

---

Repairs are simple, too! Just fill out the form and return your items directly to Digitrax for repair. We'll get them fixed up and return them to you as quickly as possible. Please DO NOT return items for repair to the place of purchase.

Make Sure Your Item Needs To Be Repaired Before Sending It To Us! Many of the units we receive for repair do not need any repairs at all. Before you send any units for repair, please take a few minutes to review our Support Options.

1. Check the Tech Support Depot for help. Search for troubleshooting guides.

2. Click here to send Digitrax Tech Support a message.

Please give your name, e-mail address, phone number and when is the best time to contact you. Please give a complete description of the issue you are having.

Many problems are easily resolved by contacting Digitrax Tech Support without having to send in your unit.

Note: Some Digitrax products are no longer repairable due to unavailability of repair parts. Un-repairable items will be returned to you at no charge with no repairs made.

Please Note: Most of our products are not user serviceable. If a defect or accidental damage occurs, return the unit directly to Digitrax for service. Please do not open the Command Station/Boosters (except for making voltage adjustments or changing batteries per the manuals). Please do not remove the shrink wrap protective sleeves from the Digitrax decoders. Shrink may be peeled back to expose pads for adding function wires.

Accessory items that are not covered under the No Worries Warranty carry a 90 day warranty against defects in materials and workmanship. This includes speakers, wire, cables, battery covers, etc.

Intentional damage and customer modifications outside the scope of instructions provided with the product are not covered by this warranty.

Do NOT send a locomotive with your decoder. If a locomotive is sent to Digitrax, Digitrax will ship the entire package back, unrepaired.
Product Support
Supporting Documentation
Tech Support Depot