Remove the 8 pin dummy plug from Lifelike Proto 2000 light board.

Before installing the decoder in the locomotive, unsolder the yellow wire from pin 2 and re-solder it to pin 3 (empty pin) on the decoder harness plug board. We strongly recommend that you mark the decoder and/or harness so that you will remember that you have modified it. If you use the decoder and/or harness modified in this manner in a different locomotive, your lights will not work correctly.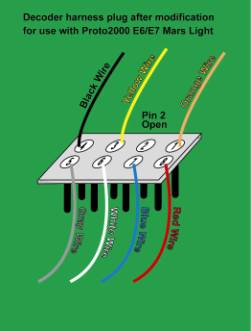 Plug the decoder and harness into the light board in the locomotive.

Program CVs as follows: CV33 = 001, CV34 = 003, CV35 = 002

Use F1 to control Mars light on/off.