This Application note shows how Marklin Users can have the power and reliability of Digitrax boosters along with their Marklin command stations!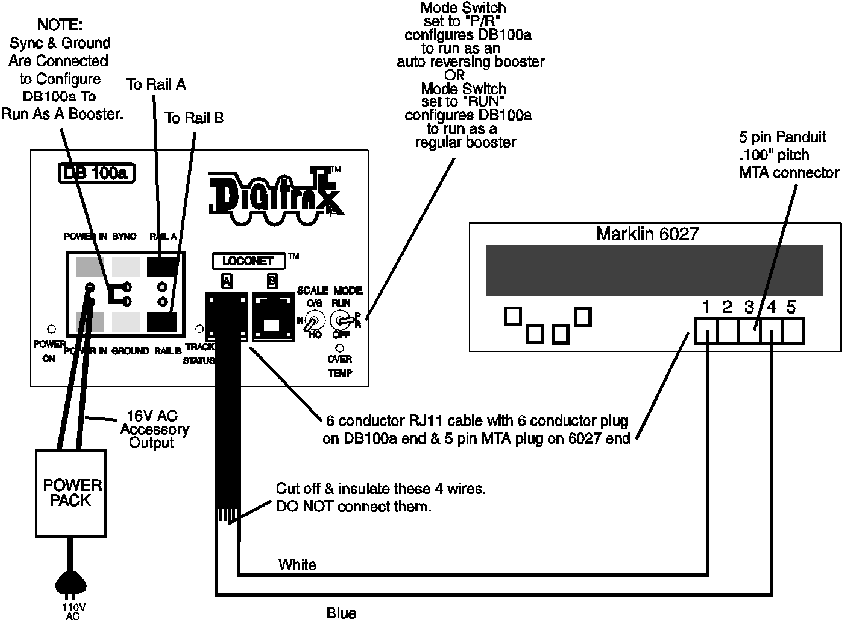 Notes:
1. Before applying power to the booster, use a short length of wire to short the 2 gray terminals (SYNC & GROUND) on the DB100. This forces the DB100 into the booster mode when the power is applied to it. Set the MODE switch to "P/R" for auto reversing operation or to "RUN" for normal booster operation.
2. Make a cable with 6 conductor RJ12 cable with a 6 conductor male plug on the DB100 end and a 5 pin MTA plug on the 6027 end. The 2 outside wires of the cable carry the booster signal. These must be connected to pins 1 & 4 of the MTA connector. It does not matter which of the 2 outside wires are connected to pins 1& 4 of the 5 pin MTA plug either orientation will work. The 4 other wires should be isolated and are not used.
3. Connect the cable from either the A or B LocoNet port to the slave booster connector on the back of the 6027 as shown.
4. DB100a is shown in the diagram but any Digitrax Booster will work the same way.